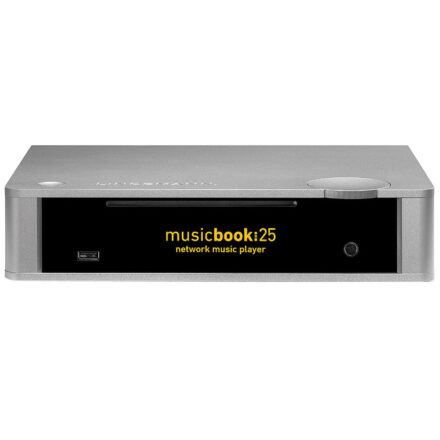 Standby Key for turning on and off the unit. Very low energy consumption in operation mode due to intelligent power supply. Standby function selectable via app between energy saving (consumption only 0.5 W) and network standby (4.0 W consumption).
Premium slot-in CD drive (Teac) for playing back your favorite CDs. High tracking reliability. CD text ready. All CD functions controllable via app and IR remote. Rediscover your CDs!
Headphone output (1/4" or 6,35 mm). Consummate musical enjoyment through a discrete class-A diamond buffer as headphone amplifier. Headphone volume controllable via IR remote and multi-function wheel. Recommended headphone impedance range: 32-300 ohms.
USB-A port (USB host) for docking storage media such as external harddisks or USB sticks. Recharge function for tablets and smartphones up to 2.1 A (depending on device). Recharge port for remote control.
Multi-function wheel for volume control, mute and input selection. All other functions can be controlled by means of the included IR remote control or via the app.
OLED Graphics Display with nearly 180° viewing angle (optically bonded).