Keep the dust and debris off your treasured vinyl with our selected range of record cleaning brushes. We only stock the most effective designs at any price-point; so you can be assured that no matter what your budget is, you will be providing your collection with the best possible care.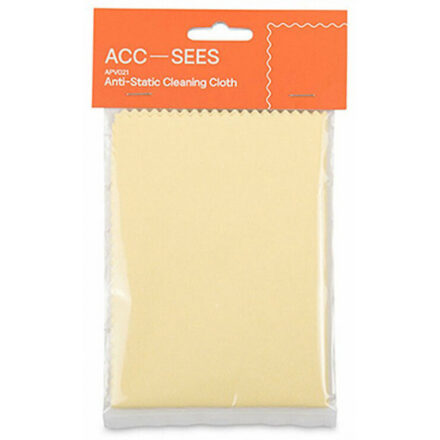 Designed for the audiophile to get the most out your vinyl collection, old or new.
Antistatic Carbon Fibre Brush
Helps to reduce static on the vinyl
Removes dust and grime from the disc surface
Helps to maintain the quality of the disc
Reduces stylus wear and tear
A softer touch, for your valuable vinyl collection.
The Acc-Sees Velvet Brush Record Cleaner provides you with a great to maintain and clean your records. Anti-static properties repel dust to make sure your cloth and your records stay cleaner for longer.
The Blue Horizon Probrush, in stock at MCRU.
t.
Dry or wet cleaning brush for your stylus. The ideal complement for any stylus care system.
The ideal complement for any stylus care system. Stylus cleaning fluid including applicator brush efficiently removes dirt and dust.
For fluid / wet based record cleaning The Clearaudio Pure Groove is a record cleaning brush with extremely fine microfibre bristles, ideally suited for wet cleaning of records. Featured with the Clearaudio Matrix record cleaning machine.
EASY, ACCURATE CARTRIDGE SETUP
Clearaudio's Smart Stylus Force Gauge provides an easy, accurate, and inexpensive way to set up your cartridge accurately. No AC power or batteries are required for this ingenious method. Boasting 1.5 g to 3.5 g accuracy, the Gauge works by measuring the 'flex' of your stylus when you set your tonearm down on top of the printed scale.
Full-synthetic, ultra low friction, improves any turntable and motor bearing
When all your equipment is level, vibration is reduced and performance enhanced. If your turntable platter is not perfectly level it will affect the way the stylus sits in the groove, causing channel imbalance and possibly uneven wear to both the record and the stylus.
The new reference record brush
Also works on optical media
In stock now
Furutech DeStat III Hand Held Static Eliminator
Ultimate Performance • Ultimate Refinement • Ultimate Luxury  The new destat III is incredibly easy to use as it removes dust and static charge from audio/video media in just one 15 second treatment – now with 30% more zapping power. High performance enthusiasts know that static charges on analog and optical media -- LPs, CDs and DVDs – can lead to distracting noise and compromised sound. Simply place your media on the destat III or hold it over your media of choice and press one button! The powerful fan removes dust while the destat III's Balanced Ion Flow Generator – releasing just the right balance of positive and negative ions – eliminates static.