Keep the dust and debris off your treasured vinyl with our selected range of record cleaning brushes. We only stock the most effective designs at any price-point; so you can be assured that no matter what your budget is, you will be providing your collection with the best possible care.
Antistatic Carbon Fibre Brush
Helps to reduce static on the vinyl
Removes dust and grime from the disc surface
Helps to maintain the quality of the disc
Reduces stylus wear and tear
The Blue Horizon Probrush, in stock at MCRU. t.
The new reference record brush
Also works on optical media
In stock now
Furutech DeStat III Hand Held Static Eliminator
Ultimate Performance • Ultimate Refinement • Ultimate Luxury  The new destat III is incredibly easy to use as it removes dust and static charge from audio/video media in just one 15 second treatment – now with 30% more zapping power. High performance enthusiasts know that static charges on analog and optical media -- LPs, CDs and DVDs – can lead to distracting noise and compromised sound. Simply place your media on the destat III or hold it over your media of choice and press one button! The powerful fan removes dust while the destat III's Balanced Ion Flow Generator – releasing just the right balance of positive and negative ions – eliminates static.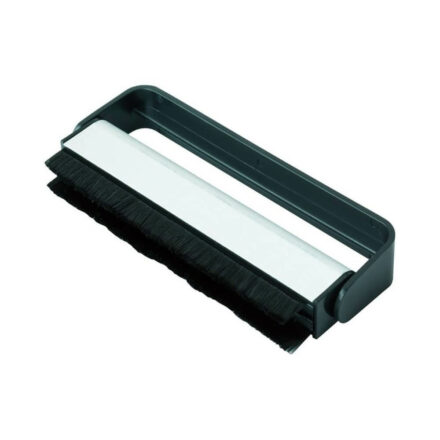 Removes dust
Essential accessory
Use every time you play vinyl
# Simple To Use # Cleans All Stylii
Essential vinyl care accessory.
Keeps dust/debris off your stylus Prolongs record life