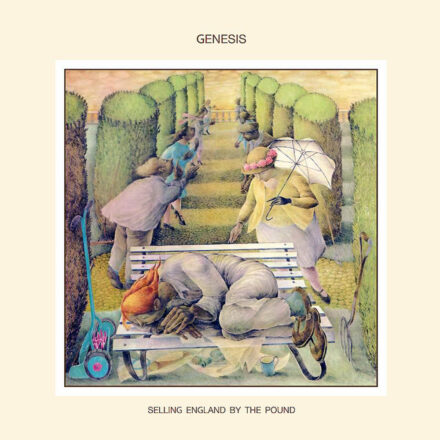 IN STOCK NOW!
Recorded in August 1973 — the tour for Foxtrot (1972) having ended in May of that year — Genesis' members joined for a short time to write new material which covered a number of themes, including the loss of English folk culture and an increased American influence. Hence the inspiration for the title Selling England by the Pound.
Several tracks from the album became fan favorites and were featured as a regular part of the band's live setlist well into the 1980s. "I Know What I Like (In Your Wardrobe)," was released in February 1974 and became the band's first top 30 hit in the U.K. In 2012, the album ranked seventh in Rolling Stone's "Readers' Poll: Your Favorite Prog Rock Albums of All Time." Selling England by the Pound reached No. 3 on the U.K. charts and No. 70 on the U.S. Billboard Pop Albums chart.
DUE SOON
Genesis' sixth studio album was released as a double album in November 1974 by Charisma Records and is the last to feature original frontman Peter Gabriel. The group's longest album to date, The Lamb Lies Down on Broadwaypeaked at No. 10 on the U.K. Albums Chart and No. 41 on the Billboard 200 in the U.S..
The album is a concept album and tells the surreal story, devised by Gabriel, of a young Puerto Rican named Rael who embarks on a journey through a series of strange and bizarre events in New York City.