A range of feet to fit underneath turntables such as the Technics SL series and Rega.
Isolates turntable from acoustic feedback and seismic vibration from footfall etc.
Replacement turntable feet with spring and damper isolation solution
Adjustable spring rate by adding or subtracting springs copes with a range of turntable weights ensures that the resonant frequency is below the listening range
Damping can be added to reduce motion – especially useful for DJ's
The DELOS butcher block from IsoAcoustics decouples the turntable from the supporting surface and dramatically diminishes structural vibrations and resonances, resulting in greater clarity and detail.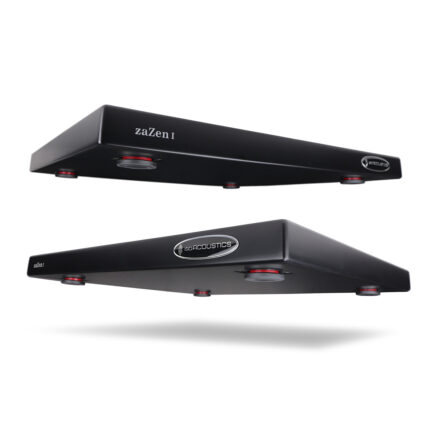 Composed from dense, void-less fibre and coupled with IsoAcoustics' patented isolating foot attachments, the zaZen is an isolation platform designed for use with turntables, tube amplifiers and other sensitive HiFi components. zaZen is available in two sizes with alternative weight capacities. zaZen I measures a thickness of 38mm and holds up to 11.3kg of weight, while the zaZen II measures in at 44mm boasting a bulkier 18.1kg of maximum capacity. The zaZen platform's mass married with its integrated isolation technology serve to remove interference from structure-born vibration, allowing the operating HiFi component to perform at its very best and reveal new levels of acoustic clarity and detail. Each zaZen isolation platform is finished in elegant black gloss to match neutrally with a wide variety of turntable and HiFi component aesthetics.