Now in MKIII versions fully BS Approved.
Featuring between 4 and 11 UK sockets and non intrusive filtering developed with Ben Duncan research in the UK, 16amp IEC inlet to attach your chosen power cord (we can provide a matching Supra power cord on request starting at £57).
The Supra mains blocks are shielded and radiated low levels of electricity generated fields thanks to their aluminium chassis connected to ground potential. The conductive chassis drains the internal interference down to ground and prevents also adjacent RFI and other malicious fields to enter the distribution block. It has to be connected to a grounded wall socket with a mains cable providing ground lead, in order to work properly. The mains cable connecting the mains block to the wall socket and the mains cables to each device should for maximum interference dampening/immunity also be shielded. We recommend our Supra LoRad Mains Flex as the best alternative to combine with our distribution block. If you are new to the field of mains power shielding and filtering, you will undoubtedly notice the difference.
Features:
LoRad stands for low radiation of electric and magnetic alternating fields, keeping you and your family free from harmful influence. The screen protects your equipment from radiated mains, RF pick-up and allows you to enjoy your hi-fi set or TV's full potential
The Surge Protection will give your hifi gear the chance to survive a close by lightning strike
LoRad result in a cleaner sound, better picture and a more healthy home and working invironment with low levels of harmful fields
Unbeatable price-performance ratio
3-way Surge Protection
Supra NIF Transient Filter
3-Way Surge Protection
The SP-models are all equipped with the Supra Surge Protection which protects all three ways; i.e. Live to Earth, Neutral to Earth and Live to Neutral. The standard surge protection manufacturer think that it is sufficient to offer only Live to Neutral protection, and they do not protect against field surges by proximate lightning strikes. The only better way to protect your equipment compared to Supra SP is to disconnect all mains power, interconnects and communications with adjacent devices completely. Unfortunatly the thunder storms does not follow a schedule, next time you may be at work…
All filtering and all protection need a mains wall socket with a ground terminal to operate. If your multimedia- and hifi equipment is of a certain standard, they will probably require ground connection themselves and use a IEC-320 socket for detachable mains power cords. If your equipment is such and you do not have ground terminal in your mains wall sockets, we recommend you to contact your landlord and/or an electrician to arrange for ground connection. Doing so, will undoubtedly both increase sound quality and the security for your equipment.
SUPRA NIF Transient Filter
A Non-Intrusive Filtering circuitry, providing a mild noise and radio frequency filtering that will not slow down or mute the dynamics from your Hi-Fi audio system.
Specification:
2-way to 6-way blocks:
Output 1 – Non Filtered, Surge protected
Outputs 2 to 6 – Filtered, Surge protected (SUPRA Mains block must be connected to a ground terminal socket for the various protections and filters to be active)
8-way to 15-way blocks:
Outputs 1 & 2 – Non filtered, Surge protected
Outputs 3 to 15 – Filtered, Surge protected (SUPRA Mains block must be connected to a ground terminal socket for the various protections and filters to be active)
Requires a 16A power cable for the 16A inlet.
Chassis: Aluminium
Inlet: SUPRA MCH-10, IEC320 10A
Available Number of Outlets: 2, 4, 6, 8, 10
Outlets: UK 3 Pin sockets, fully shielded in Aluminium
Radiation Free, with Non-Intrusive Filtering and 3-way Surge Protection
NIF-filter & Shielded
Radio frequency interference reduced by 40dB!
Internal wiring of 2.5sq mm oxygen free copper conductors
Supports a staggering 2300W of continuous power!
Protects you and your Hi-Fi audio system from harmful noise fields and radiation!
Max AC Current: 10A
Max AC Voltage: 250V
Max Continuous Power: 2300W
Fuse: Ceramic 10A, Slow
Surge Protection: Type 3
Uoc = 2.5kV(P-N), 4.0kV(P(N)-PE)
Up = 2.0kV(P-N), 2.05V(P(N)-PE)
Suitable for wall mounting
Mains Blocks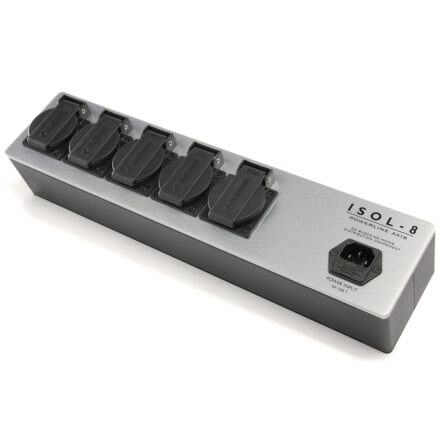 One unit ex-dem with SCHUKO sockets (EU type) The PowerLine Axis provides an innovative cure to the problem of DC on the mains supply. In theory the mains waveform should be pure AC: a perfect, symmetrical sine wave. In practice the waveform can arrive at the end user clipped, distorted and asymmetrical with a significant DC voltage component. The AC transformers commonly found in equipment power supplies cannot, by nature, tolerate significant DC without being compromised. The PowerLine Axis has five high quality outlets served by a network that re-centres the voltage axis of the mains waveform. This eliminates any DC voltage on the mains power supply, suppressing mechanical hum and liberating performance.