Two inputs for two tonearms selectable from remote control
Single ended and balanced outputs
All discrete FET design
Class A analog circuitry throughout
No ICs in signal path
Up to 20V rms output for unparalleled headroom and dynamics
Passive RIAA curve for seamless performance
Hand selected premium discrete components
DC coupled from input to output for unfettered bass
Ultra low noise discrete pre and post voltage regulation stages
Low internal feedback for increased transparency and openness
No complimentary FET transistors for lifelike performance
High current oversized power transformer
Remote control
Front panel standby button
PS Audio's first product was a phono preamplifier that took the Hi-Fi world by storm in 1975. Its designers, Paul and Stan, labored for years over every circuit detail with one goal in mind—making musical magic. Stellar Phono shares that same ethos.
Based on a unique all discrete FET topology, Stellar Phono stands out in a crowded field of conventional IC designs. Its sound is rich, warm and enticing as only vinyl through hand-tuned class-A circuitry can be.
Stellar Phono is a triumph of performance and value that you'll instantly recognize from that first needle drop, as music emerges from a velvet blackness, filling the room as if there were no speakers.
When PS engineer Darren Myers set his sights on building the best phono stage our company has ever produced, he had his work cut out for him. With the advantage of modern upgraded FET semiconductors and a fresh approach to the art of phono preamplification at his side, Darren wiped the tradition slate clean by hand-fashioning a new approach to the challenge of amplifying and preserving all the magic trapped in the grooves of our records. The results are breathtaking. Music that might once have been locked into the confines of our loudspeakers is suddenly free. What you hear fills the room with a rich tonality that has always been vinyl's promise, but rarely fulfilled to the degree Stellar has achieved.
Stellar phono features dual inputs that can support either a moving coil or moving magnet cartridge, or a two-tonearm set up to enjoy the best of each at the user's discretion. Cartridge loading and gain options are easily adjusted from your listening position via the supplied remote control.
Phono preamplifiers at anywhere near this price range are almost always integrated circuit based, but not Stellar. Input to output, Stellar is a fully discrete FET design with extraordinarily low noise and high overload capabilities so even the wildest dynamics from the punchiest cartridges sail through Stellar with no limitations or compromise whatsoever.
If you love vinyl you'll love Stellar.
Unit Weight 21.6lbs. (9.8 kg)
Unit Dimensions 17"W x 13"D x 3.25"H
(43cm x 33.02cm x 8.255cm)
Shipping Weight 25.1lbs (11.4 kg)
Shipping Dimensions 22"W x 8"H x 17"D
(55.88cm x 43.18cm x 20.32cm)
Color Options Black
Silver
Voltage Options
(Factory set only) Japan 100V
North America 120V
Europe/Asia/Australia/New Zealand 230V
Mains Power Input IEC C14
Idle Power Consumption 26W
Fuses 100V: T250V-2.0AH (2A Slow Blow)
120V: T250V-1.6AH (1.6A Slow Blow)
230V: T250V-1AH (1A Slow Blow)
Accessories Included US (NEMA 5-15P) (100V/120V versions)
Schuko (CEE7/7) (230V version)
UK (BS1363) (230V version)
Remote Control
Audio Inputs RCA (Unbalanced) MM,MC
Audio Outputs RCA (Unbalanced) 1 Stereo Pair
XLR (Balanced) 1 Stereo Pair
DC Trigger 3.5mm 12VDC (2)
Performance
All measurements are with both channels operating,
gain set to low, and balanced outputs.
Input frequency is 1kHz.
Gain MM: 44dB, 50dB, 56dB
MC: 60dB, 66dB, 72dB
Input Loading MM: 47KΩ (100pF)
MC: 60Ω, 100Ω, 200Ω, 47KΩ, Custom 1-1KΩ
Output Impedance Unbalanced <200Ω
Balanced <200Ω per leg
Frequency Response 20Hz – 20KHz +/- 0.25dB
THD 0.5V out @ 1kHz: <0.01%
Maximum Output @1%THD: 24VRMS
Overload Margin @1kHz: >22dB
S/N Ratio MM: >82dB A-Weighted
MC: >74dB A-Weighted
Interchannel Crosstalk >74dB
Power Consumption 26W
Phono Stages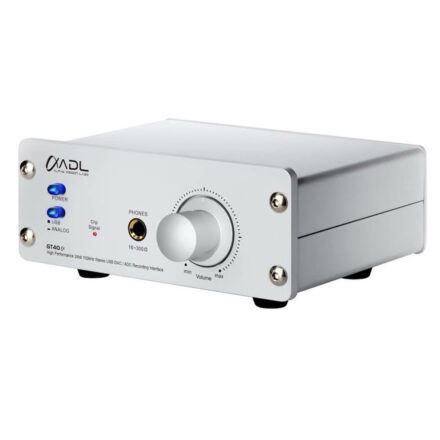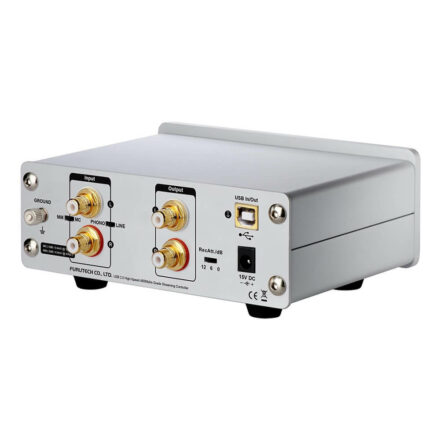 1 UNIT EX-DEM MINT WITH FULL WARRANTY
New model now in stock
High performance
DAC + ADC + Phono Stage
Headphone Amplifier