MCRU have an ex-dem unit in silver with 20% off retail price, full warranty.
The latest excellent review of the Ref. Phono Stage is in the Hi-Fi Critic magazine read it now.
The review of the Music First Audio Ref. MM Phono Amplifer can now be downloaded and read on the HiFiPig website.
Hi-Fi World magazine have also published a glowing review here. The latest positive review is on The Ear website.
Designed to be the best MM phono stage with no compromise performance. Used with a SUT for optimum effect. A demo unit is now available to audition. Please enquire if you are serious about extracting as much of the information in those vinyl grooves as possible!
Why use a step up transformer, please see why at the bottom of this page ###
The Music First Audio reference MM phono pre-amplifier has been 10 years in the making, it is designed to give the best possible sound quality from vinyl. Used with a MF Audio step up transformer or any high end SUT the music will be so life like it will reach out and touch you. We are writing from experience having heard this phono stage in action, it really is set to become a landmark product.
Music First Audio's new Reference MM Phono Stage is a high end, premium priced valve phono pre-amplifier. The result of years of development, it combines vacuum tube and solid state circuit topology to bring the beauty of valve sound with the long term stability that transistors afford.
The front end of the Reference MM Stage employs a very low noise pentode originally designed for the demanding European communication industry, combined with a dual triode to provide the ideal characteristics of high gain, low noise and low impedance drive.
This first stage, then drives an inductive equalisation network showcasing Music First Audio's many years of coil winding expertise. The accurately equalised signal is then amplified and passed through Longdog Audio's signature line driving stage. Power for the dual mono circuitry is provided by an isolated and regulated power supply which feeds, via high quality locking connectors, four discrete high voltage, low noise regulators that power the active circuitry.
Phono Amplifiers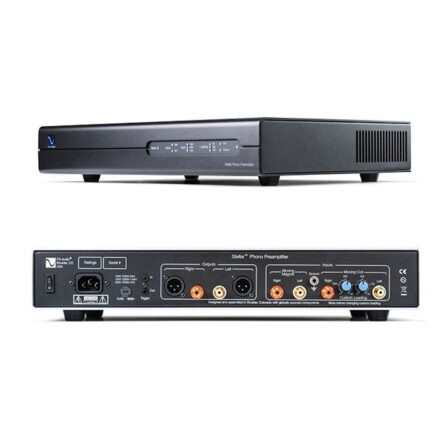 One unit in silver ex-dem
No other offers apply
Moving Magnet and Moving Coil preamplifier.
Fixed and variable cartridge loading adjustable from remote control.
Up to 70dB of ultra low noise gain for MC cartridges as low as 0.15mv.
Review in HiFi news magazine.