To achieve the ultimate audiophile's listening experience, every little element counts, right down to the cables that connect each element of electronic sound equipment.
Many hi-fi enthusiasts would argue that the difference that speaker cables make to the overall listening experience is miniscule, if making any difference at all. Even some sound engineers see expensive speaker cables as a con. However, when you hear the impressive range of speaker cables from UK company Tellurium Q, you'll quickly understand the difference that quality speaker cables can make when experiencing music.
Tellurium Q Black II speaker cable
When developing any new series of cables, speaker cables are always the first cable Tellurium Q start with and the original Black speaker cable was their first ever product. Upon releasing the Black series of speaker cables, Tellurium Q immediately found that the response from both dealers and end-customers was amazing.
However, whilst Tellurium Q Black speaker cables were a big success, Tellurium Q were eager to improve. Having learned from developing the first series, Managing Director Geoff Merrigan and his team eagerly used new levels of expertise to find as many ways as possible to make the original cable even better. The result was the Black II speaker cable and the results are immediately noticeable, not just to the discerning audiophile, but to the untrained ear. If you already own a pair of the original Black speaker cables, we're almost certain that you would feel compelled to upgrade when hearing the new and improved versions.
Quality on a budget
When you swap your old pair of speaker cables for Tellurium Q Black II models and experience music through a high-end audio system, what you will notice is just how natural the sound quality is. There is no noticeable distortion of sound or obvious flaws – the sound is very open, yet detailed.
By plugging in a set of Black II speaker cables to a good sound system, your electronics and speakers can be heard at their best for a relatively small budget. With a price of £108.00 for a pair of 1m cables, Black II delivers so much more than other products in this price bracket. Despite the cost of these cables, the build quality is also excellent – two thick cables are banded together by hard wearing insulation material.
So noticeable is the overall quality of Tellurium Q Black II speaker cables, that you will likely be found wanting to splash the cash to find out what their pricier cables sound like…
Tellurium Q Silver Diamond speaker cable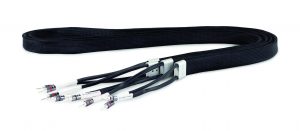 Whilst Tellurium Q Black II cables are probably unmatched for their price, the more expensive Silver Diamond speaker cables are high-end in every way.
The upgrade in quality is apparent in the build of the cables. Two cables (thicker than in the Black II series) are separated at the termination for a little more than an inch and then banded together in a hardwearing black braid, protected at the ends by a metal sheath. The terminations are plated with a silver coating that screams of quality. Whilst Tellurium Q's cheaper cables are heavy duty, the weight of Silver Diamond cables is very noticeable.
Game changing sound
Whilst there's no doubt that some cables can be similar in terms of what they add to the overall sound of a hi-fi system, this cannot be said for Silver Diamond cables. Where many cables boast of the differences they can make but fail to deliver, Tellurium Q far exceed expectations – these cables deliver and then some.
The best way to describe the sound that Silver Diamond speaker cables contribute to is that it's more in every way – there are more fine details in the mix, amazing separation of instruments and a clearer overall picture of the music. As a result, you feel closer to the music, closer to the original product and therefore, you gain more enjoyment. These speaker cables, used in combination with an equally high-end music playback system can leave you feeling like you're in the sweet spot in a concert hall where speakers on both sides of the stage reach you perfectly.
Whilst the jump in price from the Black II series speaker cables is considerable (from £2,687.40 for a 1.5m stereo pair), such is the upgrade that the price increase is justifiable – you feel like you're getting good value for money. In a high-end system, Tellurium Q have actually priced Silver Diamond quite modestly compared with some other cables, whilst giving so much more.
Clarity – It's all about the music
Born out of a conversation at a recording studio in Somerset, Tellurium Q products are focused on getting the very best out of recorded music. Extensive research and development is involved in the creation of each series of cables, in the quest to provide the cleanest signal for the perfect clarity of sound. Tellurium Q speaker cables will never add anything new to music; they simply make the very best of the elements that are already there in the music, that are so often lost.
Whilst it's hard to comprehend how Tellurium Q could have bettered the Silver Diamond series, the release of the Tellurium Q Statement range is imminent. As is always the case, Merrigan and his team started again from ground up to look at each step of cable creation in even closer detail to understand how they could optimise performance to an even greater level. No doubt, the expectations of many audiophiles will be completely blown away.
For more information on Tellurium Q's extensive range of high-end cables, visit wordpress-dev4.co.uk, or why not give us a call on 01484 538438?