WBT has continued to produce connectors specifically for the high-end audio industry over the last 20+ years. The product line has expanded from the first RCA type plug to include male and female RCA type connectors, binding posts, banana plugs and spade lugs with functionally unique features that truly elevate them to the top. WBT products are very popular with audio cable and equipment manufacturers worldwide and can be found as standard equipment on many well respected brands.
The WBT range of audio connectors are well proven to offer superb sound quality when connected to even the most basic cables; step up the cable quality and the results can be astounding.
Available now from Mains Cables R Us is the new version of both the 0661Cu or 0681Cu 'sandwich' spade connectors, utilising nextgen™ technology. (More information on nextgen™ technology and awards.)
WBT believed it was time that their popular, well-tried WBT 'sandwich' spade connectors underwent their own nextgen update. The signal conductors (of the Cu versions) have always been built of pure copper and their construction already based on the minimal mass principle. The significant change in construction is that the base body of the spade is now a nearly metal-free construction, thus becoming a 100% nextgen connector. This design change brings greater spaciousness to sound reproduction, as well as an increase in the portrayal of fine detail.
The primary reason for this major lift in performance from the 0661/0681Cu lies in the patented* 'sandwich' design of its contact fork: elastomer oscillation dampers eliminate airborne noise and mechanical vibrations, as well as magnetostrictions. This ensures almost total suppression of contact microphonics, and there is no interfering ancillary noise.
The fracture resistance of the connection is improved at the same time. The sandwich design of the contact forks, with elastomer inserted in a steel cap, generates high and uniform contact pressure while minimising transition resistance. Four punched contact points on the bottom of the fork ensure precision contact. The quality of signal transmission is markedly improved, particularly with high currents or small voltages. The surface of the pure copper conductor is protected against oxidation by nickel-free, 24k gold-plating to underpin the low transition resistance levels in the long term.
The spade is connected to the cable by means of crimping. The two Torx screws with fine thread make for a reliable connection with high tensile strength.
The plug elements are fully insulated and meet both CE and IEC safety requirements.
When ordering this spade connector, please ensure that you state clearly whether you require the 6mm fork width (WBT-0661Cu) or 8mm fork width (WBT-0681Cu).
You can find out more on the WBT range of products by visiting their web site here.  Please don't hesitate to contact us if you find a product you want that we don't have listed.
Fork widths:

WBT-0661Cu 6 mm fork (1/4 inch)
WBT-0681Cu 8 mm fork (1/3 inch)

Conductor cross section (max.):

10 mm² (7 AWG)

Connection technology:

crimping

Identification:

red, white or black

Recommended tool:

> Torx T6 wrench WBT-0488
(supplied with each end consumer package)

> Torque screwdriver WBT-0481
for professional OEM mounting

> Crimping pliers WBT-0403,
also see crimping set WBT-0411

Download: data sheet | press reports | instruction manual
* EP Patent no. 1 066 660, US patent no. 6,319,078
Loudspeaker Plugs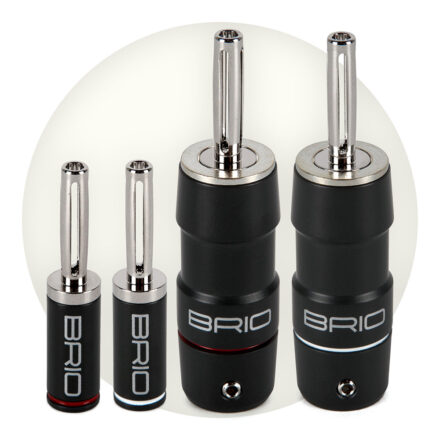 The ETI Research Brio Banana Connector is made from Tellurium Copper and Rhodium plated for not only superior conductivity but long-lasting durability to withstand day-to-day use in a wide variety of audio equipment. The housing is made from Brass for superior vibration damping and high EMI/RF noise rejection.
Price is for a single connector