Furutech is justifiably proud of its reputation for engineering, build-quality and performance, and has won the loyal support of audio enthusiasts worldwide for their finely made and beautiful sounding cables and audio accessories.
Furutech performance is legendary in the hi-fi industry, and they continue to bring exceptional products to the market that are carefully engineered to guarantee the best sound per pound.
Meticulous build quality is a large part of the Furutech engineering equation. Furutech Pure Transmission technology turns a macro lens on every element of power and signal transfer applying optimized engineering solutions to well-known problems such as contact resistance, EMI and RFI rejection, grounding, and using the best materials and processes available.
As usual, Furutech employs its patented alpha cryogenic process and demagnetising of all contact pins to make this plug a true reference product. Whilst rhodium is not such a good conductor as silver or gold, it brings a flavour to music that many audiophiles love; and adding Furutech's FI-E38 rhodium-plated Schuko plug to your power cord will bring the appropriate sonic benefits to your system because of this.
Specifications:-
α (Alpha) pure copper rhodium or gold plated conductors.
Floating Field Damper System.
Nylon/fibre-glass body incorporating carbon particles that absorb vibration and resonance.
Specified for cable diameters from 6mm to 17.5mm.
Dimensions: 39.6mm diameter x 90.5mm overall length.
Metal cable clamp improves grip and reduces mechanically and electrically induced distortion.
Rating: 16A 250V AC.
You can browse Furutech's web site here. Please contact us if you see anything you want that's not listed on our web site.
Mains Plugs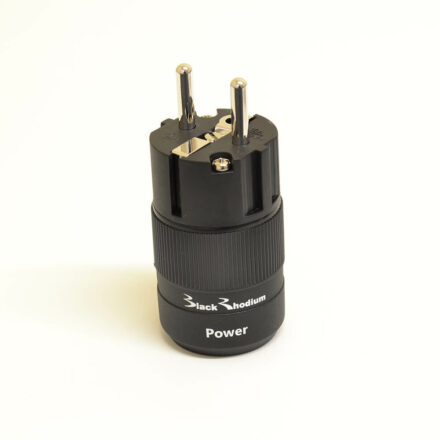 Rhodium plated copper pins, quality construction and able to accomodate thick gauge cables, the Black Rhodium Schuko plug is quality through and through.