The Rolls Royce of hifi racks, simply nothing else performs to the levels of Critical mass Systems racks.
The ultimate in performance and aesthetic, the newest top-of-the-line OLYMPUS-V12 is a Masterwork of Thermodynamics designed exclusively for high end audio to provide music lovers the optimum listening experience. The OLYMPUS-V12 is constructed following our patented and award-winning approach to vibration damping. Our unique Dual Zone System has been expanded to an unparalleled 12 damping stages producing the lowest and most neutral noise floor CMS has ever accomplished. OLYMPUS creates a nearly shocking sense of realism across the entire audible spectrum.
Certified aluminum alloy framework
Constrained Layer damping
Twelve stage, dual zone damping system separated by a 2.5" elastomeric buffer

Upper 6-stage Damping Zone

27 layer sandwich arrayed in constrained damping layers
3 different top plate materials for rigidity under load
6 different damping materials precisely sequenced based on nomographed damping data

Lower 6-stage Damping Zone 1

8 layer sandwich arrayed in constrained damping layers
Select bottom plate material for rigidity under load
5 different damping materials precisely sequenced based on nomographed damping data
The OLYMPUS-V12 filters and rack architecture function together to mitigate vibration in the floor, the rack, the shelf and the component at the same time. Originally developed ground-up for turntables (the most vibration-sensitive component of the audio system) the precision of the design and engineering is so exact that it performs exceptionally with every component in the audio system.
The OLYMPUS-V12 comes in 2 versions; Standard and Luxury. The versions are priced according to their aesthetic treatment; performance characteristics and physical dimensions are the same for both versions, only the aesthetic differs. We call the Standard version, "MAXXUM on steroids" in that the aesthetic is identical to MAXXUM, but the size of the OLYMPUS framework is larger. The LUXURY version is extraordinary in that every edge of the framework is hand polished to a mirror finish. A technician holds each part against a high-speed buffer at least 3 separate times as the sand paper grit is decreased until a mirror finish is achieved. The hand polished metal edges are masked off for painting and paint is applied and then painted surfaces are wet sanded to a mirror finish. The processes involved are intricate, time consuming, labor intensive hand-work combining to net a breathtakingly beautiful result.
The ultimate in performance and aesthetic, the OLYMPUS-V12 allows the owner to create a statement in the listening room. Custom-made to order, sizing is very flexible for single components (amplifiers), vertical rack configurations, and side-by-side configurations for multi-component systems. Leveling is fully adjustable.
We use an oven-baked color stabilization painting process for the horizontal framework, top caps, feet, legs and filters. As far as custom colors, we can match any automotive paint available in the United States. Let us know your color preferences and we can make recommendation. A few popular color options:
High gloss piano black
Aston Martin Onyx Black metallic (subtle silver metallic)
Ferrari Nero Daytona metallic (gold metallic)
Porsche GT Silver Metallic
Mercedes Palladium Metallic
Porsche Carrera White
Additional Specs for the OLYMPUS-V12:
Horizontal stabilization architecture: 30" W x 24.5" D
Horizontal x coupling tolerance to 0.0005"
Vertical joint slip/fit tolerance to 0.0005"
Titanium alloy secondary lockdown bolts at X-axis
Vertical usable space is custom made to owners requirements
Load limit: approximately 200 lbs (91 kilos) per component (higher limits as required)
Shipping weight: approximately 110 lbs (50 kilos) per level
HiFi Racks & Stands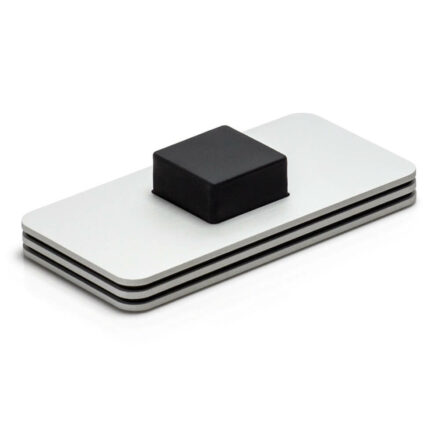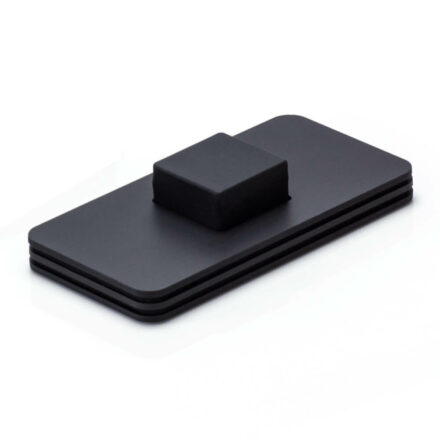 The Black Ravioli Riser is intended for large amplifiers or where there is a preference to decouple the existing equipment feet.