The ultimate in performance, MAXXUM is designed to provide the optimum listening experience. Constructed from proprietary internal vibration materials, our unique Dual Zone Damping System helps the filters manage vibration so that the signal processed by the electronics and analog devices sounds life-like and from the loudspeakers.
The filters and rack architecture operate together to mitigate vibration in the floor, the rack, the shelf and the component at the same time. Originally developed ground-up for turntables (usually the most vibration-sensitive component of the audio system) it is our best vibration management system, and the precision design and engineering is so precise that it is exceptional with every other component in the audio system.
The MAXXUM's solid metal x-frame is precision-made from high quality materials to exact specification. The spikes and connector rods and screws and bolts are surgical grade titanium. The ball bearings are tungsten carbide. All other parts of the architecture are aluminum alloys, including the 3"-diameter vertical support architecture.
The ultimate in aesthetic, the MAXXUM allows the owner to create a statement in the listening room. Custom-made to order, sizing is very flexible for single component (amplifier), vertical rack configurations, and side-by-side configurations for multi-component systems. Leveling is fully adjustable.
We use an oven-baked color stabilization process for the legs and filters (black is standard, with horizontal architecture anodized in silver, black or gold). As far as custom colors, we can match any automotive paint available in the United States. Let us know your color preferences and we can make recommendation. A few color options:
High gloss piano black
Aston Martin Onyx Black metallic (subtle silver metallic)
Ferrari Nuevo Nero Daytona metallic (gold metallic)
Porsche GT Silver Metallic
Mercedes Slate Gray Metallic
Porsche Carrera White
Additional Specs:
Horizontal stabilization architecture: 3" W x 1.25" H
Horizontal x coupling tolerance to .0002"
Vertical joint slip/fit tolerance to .0000"
Titanium secondary lockdown bolts at X-axis
Vertical usable space is 8" standard (other custom spacing available)
Weight limit for rack mounted equipment – up to 200 lbs balanced load
Weight limit for amplifier stands – up to 220 lbs balanced load
MAXXUM filters with greater weight limits are available upon request
Shipping weight: approximately 90 lbs (41 kilos) per level
HiFi Racks & Stands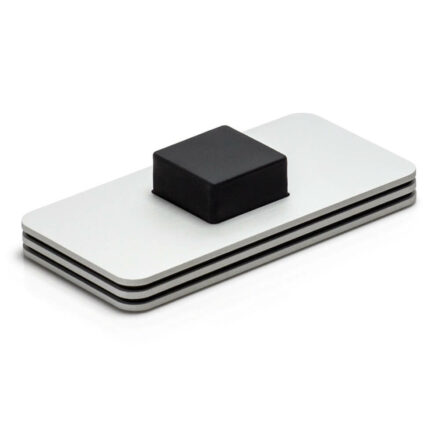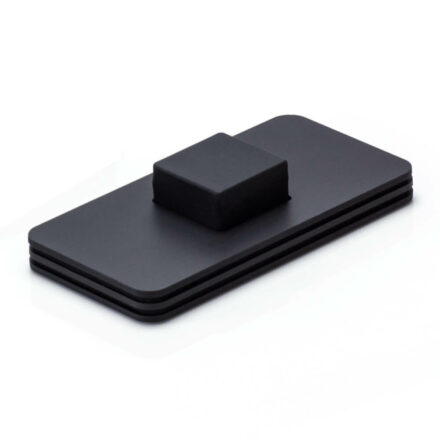 The Black Ravioli Riser is intended for large amplifiers or where there is a preference to decouple the existing equipment feet.