The CAD USB Control is optimized specifically to reduce high frequency noise in audio components by connecting to unused USB ports.
The USB Control is a small thumb-sized device that can be inserted into any available USB port – including software update ports on any components in your audio system.
The CAD USB Control will reduce higher frequency noise on both the Signal Ground and +5Vdc power.  This +5Vdc power is used in all USB connections, but in many audio components this same +5Vdc is also used in crucial audio circuitry.
Like all CAD noise reduction products, the CAD USB Control reduces high frequency noise using CAD developed technology.  The USB Control is designed to improve rhythm, timing, soundstage, and musicality of your music and will not "slow down" and harm sound quality as some other noise reduction products can do.
Music servers, routers, network switches, digital interfaces, etc. can all benefit from a reduction in high frequency noise. Anywhere you have an unused USB port in your audio system simply plug in a CAD USB Control and enjoy!
The first review of the CAD USB Control is out!
"don't let its diminutive dimensions or understated appearance fool you. This thing is kryptonite for the spurious noise generated by USB circuitry"
Read the full review by Roy Gregory right here:
USB Cables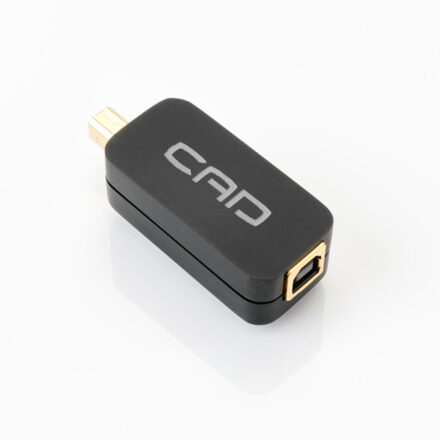 The new CAD USB Filter replaces the USB I cable. The Filter employs the same patented filter technology, developed in-house by Scott Berry, as used in the new USB II-R cable. The CAD Audio USB Cables are optimised specifically for audio use in conjunction with a USB Digital to Analogue Converter.