In February, we talked about Tellurium Q Black II and Silver Diamond speaker cables and briefly introduced the Statement series of cables that was to be released imminently. We are now happy to announce the launch of Tellurium Q Statement loudspeaker cables.
As is always the case with Tellurium Q, when developing the Statement series, the speaker cables were the start point. Given the triumph of the Silver Diamond series, the only way to set about bettering this cable was to start from scratch, looking at each step in even closer detail to decide which elements could be adjusted to optimise the performance of the cable. Given the high level of performance exhibited by Black II and Silver Diamond cables, this was no doubt a challenging task.
So, what's different? How did Tellurium Q go about bettering themselves?
The difference is in the small details. To optimise the performance of Tellurium Q speaker cables to a new level, each step of the design and build process was tweaked in many different iterations to understand what could be improved to provide a more natural sound, from the combination of conducting materials, to the connectors. Even the processes for building statement speaker cables are strictly controlled – the time-taken and temperature used for soldering is tightly measured.
Although Tellurium Q Statement cables may look relatively ordinary, there is much more than meets the eye. For example, the connectors, although very important, don't appear to be anything special, however, the plating is made up of multiple layers, not necessarily of the materials you would expect.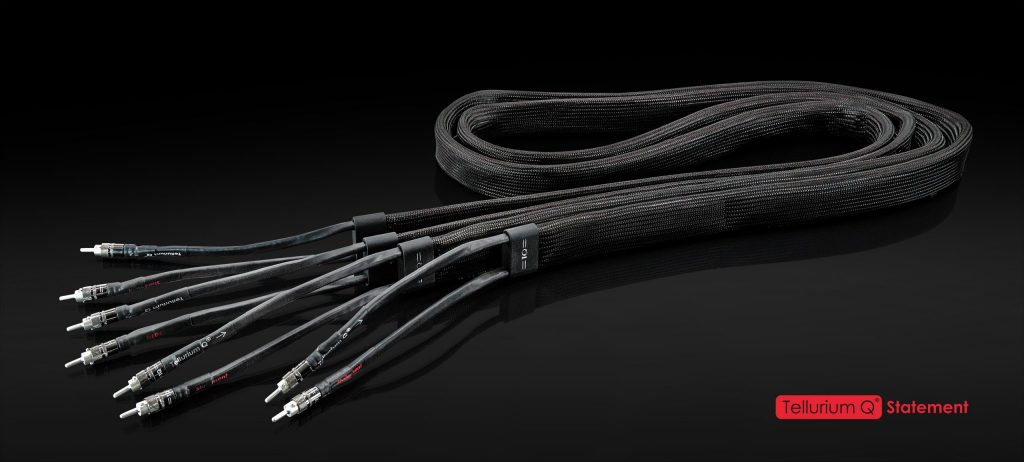 Statement sound
Tellurium Q have described their new cable series as 'a reviewer's nightmare'. Given that previous series' such as Black II and Silver Diamond have been so well received, it makes sense that reviewers may struggle to find new words to describe the performance of Statement cables.
Here is how Tellurium Q break down the sound of Statement cables:
More analogue – the same could be said for Silver Diamond cables, compared with earlier iterations, but with Statement, there's even more analogue than ever before. Hearing a music system using Statement speaker cables compared with Silver Diamond cables, it's possible to hear the subtle, yet harsher edges that were never apparent before.
More detail – rather than increasing detail to an almost 'unhuman' extent, the added detail only serves to create a more natural, real listening experience.
More compatible – whilst there were one or two systems that weren't compatible with the Silver Diamond cables, the Statement series is designed to be universally compatible.
More richness and warmth.
More real – recordings are brought to life.
For more information on Tellurium Q Statement speaker cables, simply call 01484 538438 or come and visit our show room at 9 Brook Street, Huddersfield, HD1 1EB.