The Ultimate XLR Cables have been developed over many years, 100's of combinations of cables and connectors have been extensively trialled using audiophiles and engineers to achieve what we consider one of the best balanced cables money can buy, The Ultimate range of cables consists of mains power, digital, stereo interconnects, loudspeaker and finally xlr cables.
The Ultimate is 100% assembled and tested in our workshops using the best materials available, rather than take bog standard cables and connectors we have used the best conductors and what we consider the best XLR plugs and added our own magic ingrediants to offer a superb cable, able to compete with the big brands.
The cable is triple shielded and features 2 x 5n solid silver conductors made in Japan, we cryo treat the cable using Frozen Solid who have specialized in this line of work for many years and are leaders in their field. Cryogenic treatment improves conductivity and does make a difference to sound quality for the better.
The XLR connectors are Furutech's top of the range carbon fibre CF602-FR/601MR. We auditioned most of the currently available XLR plugs over many months and these sounded the best. We use Oyaide silver solder for all connections and finish of the interconnect by sleeving the cables with a special carbon infused braiding which stops RFI/EMI. We have done everything possible to offer the best cable we can.
Furutech carbon fibre XLR connectors which are cryo treated and de-magnetized as standard, we are authorized Furutech dealers and consider the XLR connectors to be the finest available, performance wise they are exceptionally clean and in combination with pure silver cable offer a beguiling sound that needs to be heard to be believed. We also add a special carbon infused weaving on the outside of the cable which stops RFI dead in it's tracks and prevents the cable acting as an aerial by picking up stray radio waves, it is extremely effective and so good we use it on all our Ultimate range of cables.
The Ultimate XLR Interconnects are 0.5 metres long as standard, add extra cable using the menu system. Please note the price for extra cable includes the appropriate amount of carbon mesh sleeving which is on the cable. So if you require a 1 metre stereo pair add 0.5 metres of cable.
The Ultimate Range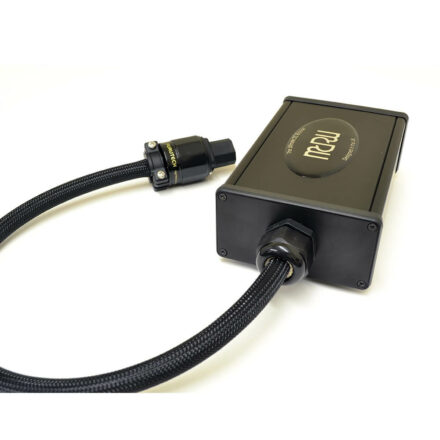 Designed in the UK, the MCRU is a tried and tested design able to improve sound quality by removing harmful DC from your mains, reduce transformer hum from your system, proven by existing customer feedback. New model with in-line capability, simply plug your existing power cable into the unit and plug the other end to your equipment.