"Offering superb value for money, this cable not only provides sonic balance but also excellent instrumental separation," Paul Rigby, Hi Fi World.
Awarded the maximum 5 globes in Hi-Fi World, read the review here. The asylum power lead is 1 metre long as standard.
The MKII version is now available, improvements based on our own listening tests. NEW MCRU audio grade silver plated copper IEC connector with improved cable clamping system, internal MCRU bespoke filtering in the mains plug and IEC and a specially sourced german made filter on the cable itself to stop RFI.
Based loosely on the Bob Crump Audio Asylum Power Cord, this is a one metre mains lead made with belden 19364 audiophile cable fitted with a MCRU ref. silver plated iEC and MK 655 Toughplug.
Belden 19364 cable has been famous in audio circles for over 20 years, sadly the originator of the Asylum Power Cord, Bob Crump passed away in 2005 but his legend lives on, see here for details of the power cord.
As the lead is intended for UK audiophiles there is only one plug worthy of consideration, the MK Toughplug, silver plated in the UK for optimum performance on both music and movies. Our plating company have been in business for over 50 years, they are experts in this field.
There is no better performing mains power lead unless spending a lot more, you will see and hear the difference this cable can make to your hi-fi and AV equipment, buy and enjoy, below is a comment received by a customer using these cables on his hi-fi system:-
The house doesn't know what hit it…!! Well let me tell you what… I do have a very good sounding well matched system anyway. But I have definitely improved the tightness of bass and also improved the separation of sound when lots of instruments are involved and the sound is full. So I am very pleased indeed. And your cables are very smart indeed – very professionally put together. There's a few years experience there!!! Unfortunately I have taken them off for now… the wife will be insistent as they are for Christmas! I won't tell her I rocked the house earlier!
Mains Leads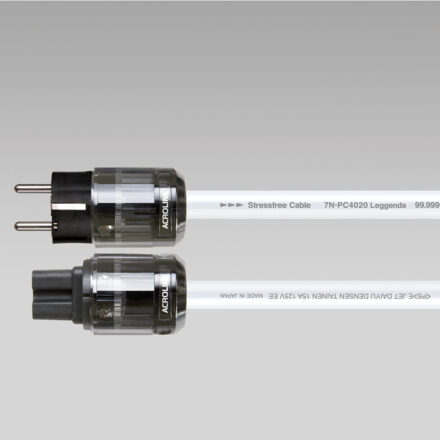 Acrolink 7N-PC4020 Legenda is a 3x14AWG power cable, made with 7N copper conductors for phase and neutral, 5N for ground. The terminals have metal elements silver-plated and perodized. 1.5m fitted with a Schuko plug