LoRad MKII is a revised and updated version of the original CE-approved audio grade shielded mains cable, using multi-stranded tin-plated OFC conductors. The Cable is shielded via a carbon/nylon screen, which is in "touching" contact with a multi-stranded drain wire. The drain wire is protected from the inner power conductor by a mylar wrap, which helps protect the inner three conductors from being damaged. Stranded insulation colours are used: Brown (L), Blue (N) and Green/Yellow (E).
The main differences between LoRad MKII and the old LoRad cable, is that it is now based on SUPRA's unique Nylon screen concept. Semiconducting Nylon Screen provides improved shielding properties, bending strength, environmental immunity, higher tensile strength and less microphonic effect. The Nylon screen is connected with a drain-wire. Supra have tested and evaluated all known types of screens for making such a good cable as possible. SUPRA's semi-conductive Nylon screen was the only one that passed the safety requirements and, moreover, its shielding properties was best in test. LoRad MkII is tested and certified by Intertek Sweden, meeting the European safety regulation HD21.5 S3.
The cable must be connected to a wall socket with a ground terminal for the full LoRad effect.
The benefits of LoRad have been established for some time now – as the cable is one of the few available worldwide that is fully CE approved. The main benefit is the shielding which helps to ensure that other low level signal cables are not affected by the close proximity of the LoRad mains cable – induced RF interference has been one of the biggest bug-bears of high quality audio and video reproduction and so by equipping one's hi-fi or AV system with LoRad, you should both see and hear a difference.
Note: Supra do not recommend that LoRad cable is laid inside walls or under floorboards, where it's presence cannot easily be detected by conventional mains cable.
Specification:
Supra LoRad MKII 2.5 CS-BS 13 Amp Mains Cable
Length: 1m
Conductor: 3×2.5mm2, Tin plated 320×0.10 OFC
Conductor insulation: Dual layer PVC. Green/Yellow, Blue & Brown
Fillers/Armoring: Yarn, 3 pcs
Screen connection: Drain wire, Ultra flexible, Tin plated 66×0.07 OFC
Armouring & insulation: Woven polyester tape
Screen: Woven Semi-conductive Nylon/Carbon tape
Jacket: PVC
Electrical Specifications
Restistance/conductor: 6.8 Ohm/km
Voltage Nom.: 110-250V
Current: Nom.: 16A
Mains Leads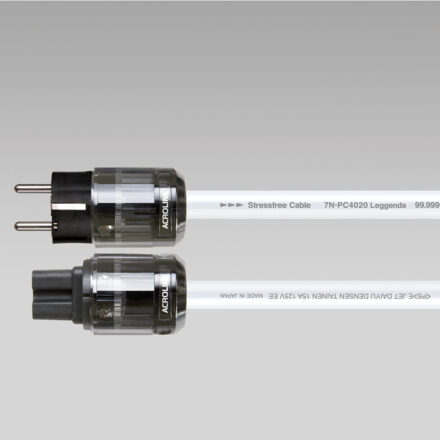 Acrolink 7N-PC4020 Legenda is a 3x14AWG power cable, made with 7N copper conductors for phase and neutral, 5N for ground. The terminals have metal elements silver-plated and perodized. 1.5m fitted with a Schuko plug