Mastered from the original analog master tapes, pressed on ultra-quiet vinyl at RTI, and issued in partnership with Warner Nashville in commemoration of the record's 35th anniversary, Mobile Fidelity's numbered-edition 180g vinyl LP of Storms of Life stands as the first contemporary country audiophile reissue and a testament to Travis' Country Music Hall of Fame legacy. Housed in a single-pocket tip-on gatefold sleeve with new artwork, the quadruple-platinum album now boasts stellar transparency, breathtaking clarity, broad dynamics, and gorgeous tonalities that allow listeners the opportunity to experience one of the greatest vocalists in recent memory with unparalleled intimacy, realism, and breadth.
Produced by Kyle Lehning, and shaped to go against the mellowness and softness that were part of the then-current county-pop mold boosted by the popularity of Urban Cowboy, Storms of Life features fully formed architecture and expert instrumental support that benefit from the meticulous sonic restoration. Details such as the patient swell and bloom of pedal-steel guitars; rise and carry of background vocalists; bluesy drift of harmonicas; depth of pianos; airiness, snap and twang of acoustic guitars; back-porch sweetness of fiddles and mandolins; and grounding pace of the drums come across with reference-quality sound. Each contributor gets their own space in the mix. Music aficionados take note: Jerry Douglas, Mark O'Connor, Eddie Bayers, and David Hungate are just a few of the prized session musicians involved.
For all the merit afforded by the blend of honky tonk, country and western, and balladry, nothing eclipses what Travis brings to the project. Coupled with the back-to-basics songwriting, his inimitable presence is why Storms of Life remains as fresh today as it was the year Top Gun premiered in cinemas. He approaches every song with an uncanny modesty, his conservational drawl and casual demeanor nearly concealing the power, reach, and artisan-like effortlessness that inhabit each note he sings. Akin to groundbreaking icons such as Frank Sinatra and Hank Williams, Travis never overdoes it; rather, he relies on instinct, and combined with his golden pipes, never sounds less than completely invested.
On Storms of Life, the gateway to a sterling career laden with hit albums and major awards, Travis uses such assets to maximum effect. Evidence of his greatness arrives immediately on the opening "On the Other Hand," a clever take on an oft-worn country topic (unfaithfulness) and whose title ranks as one of the finest puns in the genre. Rich, steady, calm, and seemingly able to reach down into any bystander's soul, Travis' voice straddles tenderness and ache, reflecting the difficult situational divide facing the narrator, whose heart tugs him in one direction and his obligation another. It isn't the only instance where the then-27-year-old wades into messy emotional territory and retains an unshakable penchant for balance and spareness.
Indeed, the aptly named Storms of Life largely concerns itself with the human condition — and the memories, ruminations, meditations, wishes, and regrets that accompany it. On the two-stepping title track, Travis chronicles his circumstances with humor and color all the while emerging with a keen perspective. Busted relationships inform the upbeat, string- and choir-accented "Diggin' up Bones" and sentimental albeit sad "No Place Like Home." For "Reasons I Cheat," the protagonist makes no apologies for his behavior as Travis uncorks deep, grainy syllables amid the quiet that threaten to freeze the listener in place.
Akin to the understatement he shows on the lost-love story "1982" and toe-tapping "There'll Always Be a Honky Tonk Somewhere," Travis — unlike some of the song narrators — remains in control throughout Storms of Life. For nearly 32 minutes, his spareness, articulation, subtlety, ease, and refinement set a template that has still yet to be matched in country music.
Please note: The catalog number for Storms of Life is misprinted on the LP jacket spine as "MFSV 1-511" instead of the correct "MFSL 1-511." This title is normal 180g LP release, not a SuperVinyl release.
Track Listing
On the Other Hand
The Storms of Life
My Heart Cracked (But It Did Not Break)
Diggin' up Bones
No Place Like Home
1982
Send My Body
Messin' with My Mind
Reasons I Cheat
There'll Always Be a Honky Tonk Somewhere
Music Vinyl LP's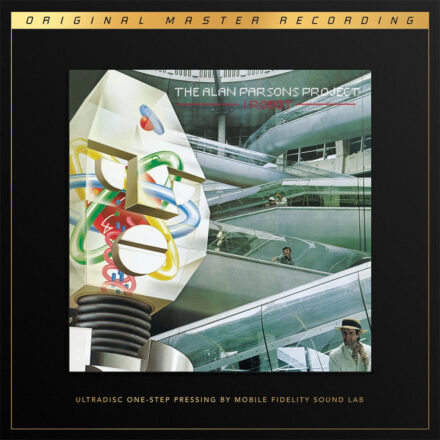 IN STOCK NOW!!
MASTERED FROM THE ORIGINAL MASTER TAPES: ULTRADISC ONE-STEP LP ELEVATES THE AUDIOPHILE STANDARD WHILE OFFERING ONE-FLIP CONVENIENCE Most audiophiles know Alan Parsons Project's
I Robot
by heart. Engineered by Parsons after he performed the same duties on Pink Floyd's
Dark Side of the Moon
, the 1977 record reigns as a disc whose taut bass, crisp highs, clean production, and seemingly limitless dynamic range are matched only by the sensational prog-rock fare helmed by the keyboardist. Not surprisingly, it's been issued myriad times. Can it be improved? Relish Mobile Fidelity's stupendous UltraDisc One-Step 180g 33RPM box set and the question becomes moot.