To make what we consider the best mains power lead we look at the gauge and purity of the metal in the cable conductors, the thickness is not as important as the purity of the conductors but it's a close 2nd. Next we consider the shielding as we don't want the cable to act as an aerial picking up stray radio waves (RFI) which will degrade the sound quality.
The humble mains fuse is often overlooked with many high end brands simply fitting a 50p fuse in their mains leads. The electricity has to travel through the fuse, cheap fuses will act as a bottleneck, MCRU have always known that fuses matter, The First special edition is fitted with the best fuse currently made, Synergistic Research master fuse for the top model.
The First is made using a cryogenically treated cable with 5.5mm2 conductors and an active copper earthing screen shrouded in a carbon infused polyester sleeving as the final shield to combat RFI.
Special edition fitted with the new Synergistic Research MASTER Fuse. There is nothing better on the market.
The First SE is fitted with Furutech NCF mains plug and either standard or 16amp FI-50 IEC.
Mains Leads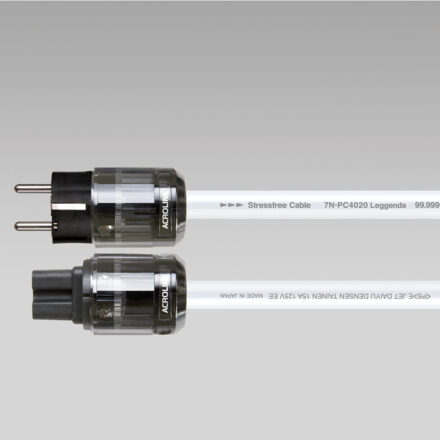 Acrolink 7N-PC4020 Legenda is a 3x14AWG power cable, made with 7N copper conductors for phase and neutral, 5N for ground. The terminals have metal elements silver-plated and perodized. 1.5m fitted with a Schuko plug