Reviews
Review in Hi-Fi Choice magazine here.
Furutech + MCRU special edition pure copper mains plug cryo treated and fitted with a gold plated 13A fuse, Furutech copper IEC cryo treated, acoustic braiding fitted over the cable to absorb resonances. The FI-1363 Furutech mains plug is made specially for us, this version is not available anywhere else. It is perfect for use with mains conditioners such as the IsoTek Sigmas or PS Audio P10 as the cable exits the plug  in a straight line.
The No.75 has already proven popular especially when used with our range of regulated linear power supplies, the silver plated conductors are often accused of causing "brightness" in a system which is why we combine the cable with pure copper connectors to tame the brightness which results in a superb mains lead which works well wherever it is used.
Standard length is 0.7 metres and increasing in 0.5 metre increments, this allows you to tailor the length to your own requirements so less messy wire around the back of your equipment rack.
Mains Leads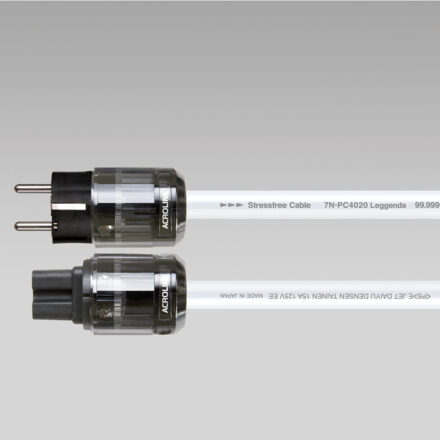 Acrolink 7N-PC4020 Legenda is a 3x14AWG power cable, made with 7N copper conductors for phase and neutral, 5N for ground. The terminals have metal elements silver-plated and perodized. 1.5m fitted with a Schuko plug