The MCRU No.70 is part of our new "7 series" range of cables. The best performance guaranteed or your money back.
The No.70 uses the very best components that we know of, based on over 30 years trialling power leads in a variety of high end equipment. Everything that can be done to produce the best performance we can achive is what the "7 series" cables is about.
MCRU have always known that ohno continuous cast copper is the best copper for conducting electricity and remains the default metal for the best conductivity (silver is better but is too soft and too expensive). The No.70 uses UP-OCC cabling with a massive 4mm sq (11AWG) conductor size for optimum transfer of current.
Terminated with the Furutech FI-1363 gold plated cryo treated mains plug and a synergistic research quantum BLACK 13A fuse, finally the superb Neotech UP-OCC IEC connector which is a perfect match for the cable.
WA Quantum cable chip fitted as well as our special acoustic braiding to absorb resonances rounds of a truly staggering specification for a mains lead.
1.2 metres long as standard, longer length on request.
Mains Leads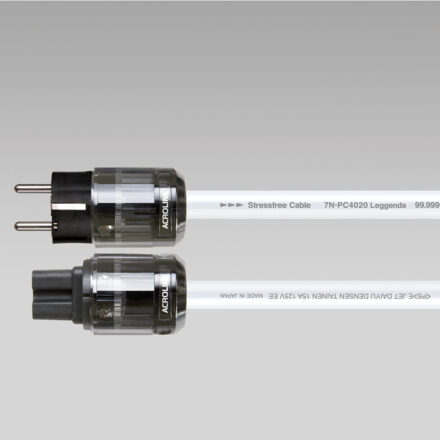 Acrolink 7N-PC4020 Legenda is a 3x14AWG power cable, made with 7N copper conductors for phase and neutral, 5N for ground. The terminals have metal elements silver-plated and perodized. 1.5m fitted with a Schuko plug