Utilizing many features and custom made in the UK, the MCRU Technics PSU will transform the performance of your turntable. The power supply has 2 outputs to power 2 decks at the same time. Installation instructions are provided as well as a power lead to suit your country.
We have not come across any other PSU offering such quality parts as standard in the design.
Here is a comment from one new owner of our power supply:-
I must leave you now,I have to find some vinyls….Thank you/
Being an audiophile for almost 35 years myself and still owner of my last turntable (Thorens/Hadcock/Ortofon MC30) I had the unfortunate idea to give away most of vinyls upon the coming of the all promising CD around the 80′s.Geting older though one starts to have the urge to do things that remind him of his youth and so I became the owner of a 1200 (although I am a fan of black I chose the original colour) despite of all my friends' opinions that it had no place in a system like mine.
So I am in the position to A.trying to find new or used vinyls and B.trying to upgrade the Technics in order for it to approach the level of the rest of the system (trying not to change the original appearance hence no arm change only Cardas rewiring).Of course I finally succumbed to a set of Finite Elemente Cerapucs ,Oyaide mat,Oyaide record weight,Oyaide headshell with Furutech La Source silver wires
and Furutech Ag-12 tonearm cable.
What I was reluctant to do also was the psu upgrade not being sure of how it would affect the sound and not being convinced from the options on offer.However when I saw the offering from C.R.US I was impressed by the level of the quality of manufacture (Furutech ,PBJ ecc.) and decided to order it although I did not have any real knowledge about it (technical or performance wise) thinking that someone showing this kind of attention at the details must do something right instead of trying to sell magic boxes with wall warts and headphone cables.
Boy was I right! from the first half turn of the platter (all it took to reach its speed) to the first note (no burn in,no critical listeniing) sound was livelier,more energetic,more detailed,more transparent,presentation was quieter.It was as though someone brought the turntable up from the basement to the audio room.Of course it was a far more impressive change than upgrading my cartridge.Only problem was a very strong led (I do a lot of listening in the night) although I found the overall appearence very appealing.
Turntable Power Supplies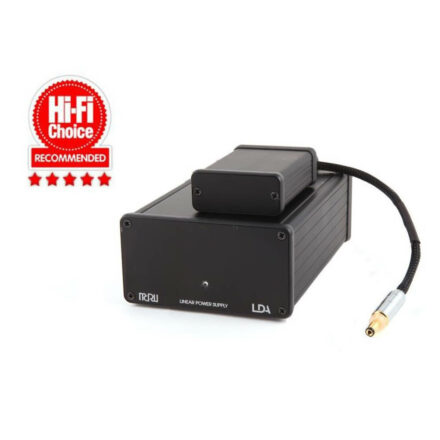 Award winning design
24V DC output
Plug and play
Available Upgrades
OPTION ONE – Standard Model – Basic mains lead £235
OPTION TWO Kimber DC Kable, Furutech Gold plated IEC inlet, AMR Gold plated fuse, Supra Lorad mains lead to suit your country  £335
OPTION THREE Pure Silver DC Cable, Furutech Rhodium plated IEC inlet, SR Orange fuse, MCRU No. 75 mains lead to suit your country £595