Part of the entry level of our mains power leads but not entry level in performance. Using the Furutech FI-11 (Cu) IEC connector which has been cryo treated using Furutech's patented alpha process to remove internal stress in the materials and improve overall performance, a hi-fi lovers delight in every respect, in additon to this exceptional IEC plug we use the industry standard MK mains plug which we treat extensively with caig de-oxit to remove contaminants from the plug pin surface and clean it to prevent further degradation, it is a perfect match for the Furutech IEC and will give the sound quality of your system an instant boost.
The cable we use for the No. 11 power lead is oxygen free copper 2.05mm diameter with a built in ground loop filter to trap mains noise at the plug end not the equipment end, this will result in a superior performance for your hi-fi equipment compared to standard kettle type mains leads.
Also available with USA copper mains plug
All our power leads are 1 metre long as standard, longer lengths can be ordered using the add extra cable option next to each products web page.
Also available as an EU version with Furutech Copper Schuko plug
Mains Leads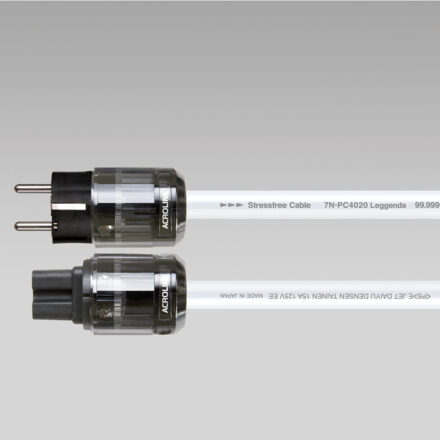 Acrolink 7N-PC4020 Legenda is a 3x14AWG power cable, made with 7N copper conductors for phase and neutral, 5N for ground. The terminals have metal elements silver-plated and perodized. 1.5m fitted with a Schuko plug