Aperta, the stylish and sleek new line of sculpted aluminium acoustic isolation stands designed for medium-sized professional studio monitors and speakers. Aperta, <Ah-pair-tah,> the Italian word for "open," describes the stands' stylised design that creates open space and compliments its surroundings, as well as the spatial openness in sound and the crystal clarity in music that they deliver.
The artistically designed Aperta stands raise the bar to set a new standard for remarkable acoustic isolation and performance.
As with all IsoAcoustics award-winning isolation stands, Aperta provides an aesthetically pleasing and cost-effective means to markedly enhance the sound clarity and transparency of medium sized speakers, using the patented "floating design" that this company has become famous for.
The Aperta 300, the next member of the acclaimed Aperta series, takes isolation and sound clarity to a new level. Featuring it's signature stylized open design and low profile (3.0 inches), the Aperta 300 offers speakers a low stance while enhancing their clarity and performance. The stand's unique tilt adjustment feature enables the user to dial in the optimum tilt angle, with fine gradation markings provided to match precise angle adjustments on each side.
Designed to support larger centre channel speakers for home audio use, the Aperta 300 features a solid aluminium frame construction measuring 300 x 200 x 75mm (11 3/4" x 7 7/8" x 3") and support speakers weighing up to 60lbs (27.2kg).
Specifications
Aperta 300 – Supplied singularly, supports speakers with a weight of up to 60 lbs (27.2 kg), Dimensions – 11.8″ x 7.9″ x 2.95″ (300 x 200 x 75mm)
Loudspeaker Accessories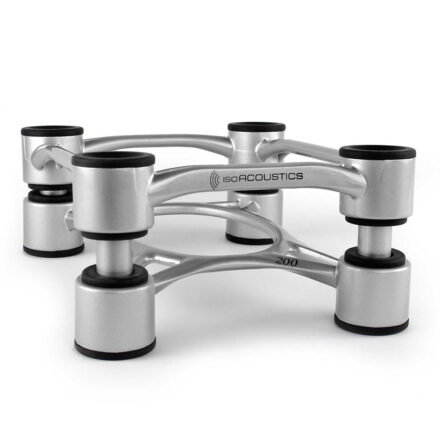 SCULPTED ALUMINIUM ACOUSTIC ISOLATION STANDS
Please note: price is for a pair To complement medium speakers weighing up to 35kg. Sculpted aluminum acoustic isolation stands designed especially for high end hi-fi bookshelf, desktop speakers, studio monitors, large speakers on floor stands, as well as under floor-standing speakers.