Hard Disk Management
More and more people have amassed large collections of music on their computer hard disks, and there are an increasing number of USB-input DACs to serve them. If properly setup and implemented computer-based systems are capable of smooth and detailed sound, especially with high resolution recordings. But as with any system component you need quality, well-engineered and built USB cables to get there.
Furutech turned its Pure Transmission engineering talents toward creating the highest quality 2.0 USB cable possible. They begin with silver-plated α (Alpha) OCC conductors and a special-grade high-density polyethylene insulation/dielectric. As illustrated below the GT2 features three-layer shielding and specially engineered 24k gold-plated USB 2.0 connectors. As with the more highly specified GT3, the cable wrap includes damping and insulating materials keeping
mechanical ringing from affecting the sound. A carefully engineered clamp improves grip and keeps both mechanical and electrical distortion at bay.
The result is much as you will hear from our GT3 USB cable:
Clear and open highs, elegant midrange textures, powerful but in-control bass, an enhanced sense of the sheer palpability of the music you'll enjoy. The GT2 creates real musical experience from the data stored on your computer. Furutech builds each and every cable in their line the same way; optimized engineering solutions applied to advanced materials and processes, backed by utterly meticulous build quality.
FEATURES
・Main conductor: Silver-plated α (Alpha) OCC Conductors
・Main Insulation: Special-grade high-density polyethylene
・3-layer shield construction for improved noise insulation
・Connectors: Furutech-engineered 24k gold-plated USB series Connectors
・The best damping and insulation materials for improved frequency extension and tonal balance
SPECIFICATIONS
・Cable Types: USB-B (Type A-B) / USB-mini B (Type A-mini B)
・Cable Lengths 0.6m (2ft) / 1.2m (4ft) / 1.8M (6ft)
Computer Audio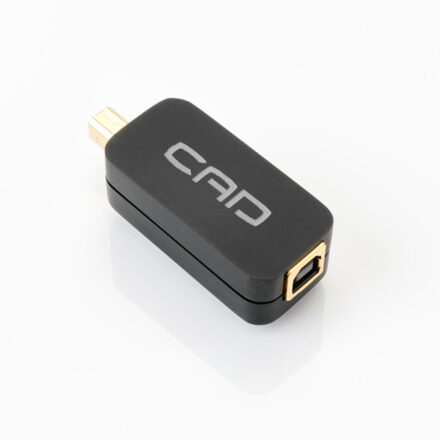 The new CAD USB Filter replaces the USB I cable. The Filter employs the same patented filter technology, developed in-house by Scott Berry, as used in the new USB II-R cable. The CAD Audio USB Cables are optimised specifically for audio use in conjunction with a USB Digital to Analogue Converter.