Quite simply, the Furutech FT-212 Ethereal Banana Terminals will assist audiophiles, OEM cable manufacturers and do-it-yourself hobbyists achieve the highest levels of performance while offering both the ease of use and the ease of installation of banana terminals. In fact, the FT-212s don't even require soldering! Furutech's legendary reputation for meticulous engineering, which focuses on constantly examining every part of the signal and power path, is reflected in the following features:
One piece Rhodium conductors for the FT-212(R), or 24K gold-plated Alpha pure copper conductors injected with POM resin for the FT-212(G)
Low weight, low mass design which offers audible improvements in sound quality
Extremely insulated POM body with non-resonant SUS housing and non-magnetic stainless steel end ring
Non-magnetic SUS set screw construction design
Beautiful machining and finishes provide all cable projects with a highly professional and attractive end result
If you've resisted the use of banana terminals as part of a highly resolving audio/video system, then it's time to compare the Furutech FT-212 Ethereal Banana Terminals to your preferred type of termination. The FT-212 proves that it's possible to have both convenience and performance!
Rating:
FT-212 (R) Rhodium-Plated
Features:
Main conductor: Rhodium or 24k gold-plated α (Alpha) pure copper
Housing: Black nylon/fiberglass with Piezo Ceramic resin
Body Insulation: Black POM resin-injected
End Ring: Stainless steel
Termination: Set screw
Specification
Specified for core diameters up to 4.2mm (8 AWG)
Specified for core insulation diameter up to 7.8mm
Dimensions: Housing: 18.0 x 16.0φ x 19.8mm overall height
Total overall length: 56.0 mm approx
Loudspeaker Plugs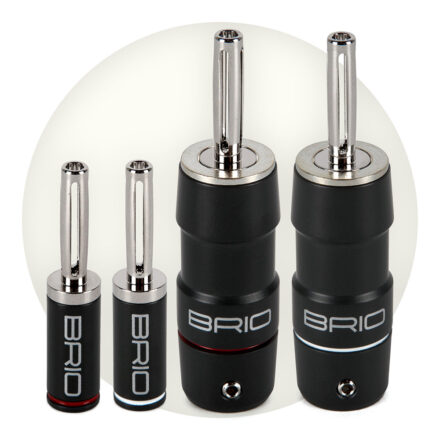 The ETI Research Brio Banana Connector is made from Tellurium Copper and Rhodium plated for not only superior conductivity but long-lasting durability to withstand day-to-day use in a wide variety of audio equipment. The housing is made from Brass for superior vibration damping and high EMI/RF noise rejection.
Price is for a single connector