Furutech is justifiably proud of its reputation for engineering, build-quality and performance, and has won the loyal support of audio enthusiasts worldwide for their finely made and beautiful sounding cables and audio accessories.
Furutech performance is legendary in the hi-fi industry, and they continue to bring exceptional products to the market that are carefully engineered to guarantee the best sound per pound.
Loudspeaker cable connectors come in many configurations, and Furutech manufacture one to suit every budget and every application. The FP-201 non-magnetic spade connectors are manufactured from PCOCC (pure copper by Ohno Continuous Casting) and 24k gold-plated. No soldering is necessary, as there are two set screws that clamp onto the cable.
Whilst rhodium is not such a good conductor as silver or gold, it brings a flavour to music that many audiophiles love; and adding Furutech's FP-201 rhodium-plated spade terminations to your interconnects will bring the appropriate sonic benefits to your system because of this.
Specification:-
Pure copper α (alpha) conductors.
Connections: set-screw or soldered.
Treated with Furutech's α (alpha) process to minimize transmission loss.
Material: UP-OCC copper with rhodium-plating.
Maximum wire diameters up to 6.0mm.
Dimensions: Space between Conductor: 8.2mm
o 12.9mm ± 0.1 (W) x 40mm ± 0.1mm overall length.
You can browse Furutech's web site here.
Please contact us if you see anything you want that's not listed on our web site.
Loudspeaker Plugs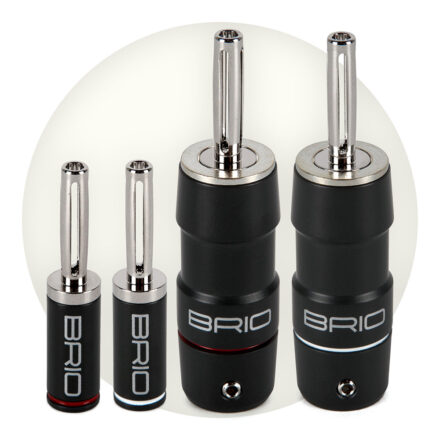 The ETI Research Brio Banana Connector is made from Tellurium Copper and Rhodium plated for not only superior conductivity but long-lasting durability to withstand day-to-day use in a wide variety of audio equipment. The housing is made from Brass for superior vibration damping and high EMI/RF noise rejection.
Price is for a single connector