Mastered from the original master tapes and limited to 3,000 numbered copies, Mobile Fidelity's hybrid SACD of Blue Hawaii transports listeners to both the carefree innocent escapism of the early '60s and calming, breezy atmospherics of the famous Pacific Islands. If you've ever wondered what it might be like to have Presley inhabit your room, this collectible reissue makes it happen via lifelike presence, clarity, immediacy, and transparency.
Recorded before the King started to burn out on soundtracks and go into a creative tailspin, Blue Hawaii presents him in tremendous voice. The newly uncovered layers of detail, body, emotionalism, and tonality on this SACD bring that treasured element – as well as the brilliance of the arrangements and accompaniment – to light like never before. Presley's warm crooning alone warrants unmitigated attention. It's not for nothing that this record – replete with panache, whimsy, romance, and seriousness – forever altered the course of his career.
Much like the film itself, the music on Blue Hawaii subscribes to a feel-good aesthetic. Presley plunges into a stylistic deep end with equal parts fearlessness and fun. He delves into early rock 'n' roll ("Rock-A-Hula Baby"); touching balladry ("Hawaiian Wedding Song"); playful rumba ("Beach Boy Blues"); relaxing luaus ("Hawaiian Sunset"); and naturally, island-inspired fare ("Ku-U-I-Po"). It becomes immediately evident that the King is enjoying himself and committed to the mission. Is Blue Hawaii all serious art? No, but it was never intended to be. Rather, it serves as a showcase of Presley's outgoing personality and chameleon-like ability – like that of Frank Sinatra – to inhabit different roles and entertain.
Of course, Blue Hawaii remains timeless for another reason: The inclusion of the timeless, gorgeous, and still-untouchable staple "Can't Help Falling in Love." Penned by Hugo Peretti, Luigi Creatore, and George David Weiss, the love song quickly transformed into an international standard – with Presley's definitive version hitting No. 2 on the charts and ultimately becoming the closing song to his concerts. Ranked among the 500 Greatest Songs of All Time by Rolling Stone, its conviction, sentiment, and depth testify on behalf of why Presley still reigns as the King.
However subtly, the staple also underscores another reason Blue Hawaii should never be overlooked in Presley's canon: the ace musicians involved in its creation. Guitarists Scotty Moore and Hank Garland; drummer D.J. Fontana; percussionist Hal Blaine; pianist Floyd Cramer; bassist Bob Moore; and iconic gospel backing vocalists the Jordanaires all contribute masterful performances. Hearing them with such expressiveness, openness, and realism on this SACD should forever alter how Presley's 1961 soundtrack – the finest of his career – is viewed. As he sings in the title track, dreams come true, indeed.
Track Listing
Blue Hawaii
Almost Always True
Aloha Oe
No More
Can't Help Falling in Love
Rock-a-Hula Baby
Moonlight Swim
Ku-U-I-Po
Ito Eats
Slicin' Sand
Hawaiian Sunset
Beach Boy Blues
Island of Love
Hawaiian Wedding Song
Music Vinyl LP's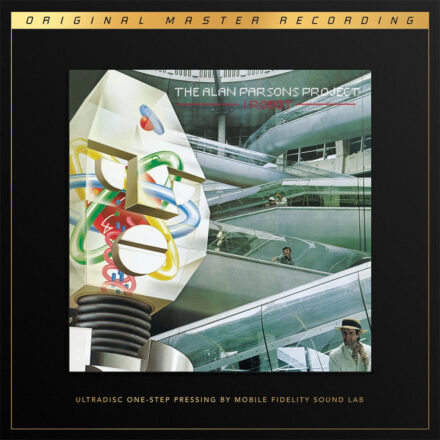 IN STOCK NOW!!
MASTERED FROM THE ORIGINAL MASTER TAPES: ULTRADISC ONE-STEP LP ELEVATES THE AUDIOPHILE STANDARD WHILE OFFERING ONE-FLIP CONVENIENCE Most audiophiles know Alan Parsons Project's
I Robot
by heart. Engineered by Parsons after he performed the same duties on Pink Floyd's
Dark Side of the Moon
, the 1977 record reigns as a disc whose taut bass, crisp highs, clean production, and seemingly limitless dynamic range are matched only by the sensational prog-rock fare helmed by the keyboardist. Not surprisingly, it's been issued myriad times. Can it be improved? Relish Mobile Fidelity's stupendous UltraDisc One-Step 180g 33RPM box set and the question becomes moot.