Reference level connector – accepts up to 7mm overall cable diameter.
The Xhadow Precision RCA connectors are designed to be the best made RCA plug in the world. Precision, purity, simplicity and elegance are the hallmarks of Xhadow products, and this RCA embodies those sentiments with no compromise.
The main barrel and rear-nut are machined from pure aluminium and hard anodized in "Xhadow Gray" for a durable and non-conductive finish.
Into this barrel assembly fits the contact assembly. Each one is machined from OFC pure copper (silver plated) with a machined Teflon dielectric, holding the OFC pure copper machined contact pin that has also been silver-plated.
Each signal contact can be terminated to the signal of wire via solder, set-screw, or both. This gives the end-user a tremendous amount of flexibility while also guaranteeing a fantastic air tight contact between wire and signal contact pin.
The fit of these connectors is smooth but very strong, with a tremendous amount of contact pressure to ensure perfect and consistent signal passage with a minimum of contact resistance.
Nice comparison of the Xhadow RCA against two competitors here on 6moons.com
Review conclusion:
If you're a HiFi buff who wants maximum sonic performance with a good dose of musicality, then the Xhadows would be your choice.
Sold in pairs.
RCA & XLR Connectors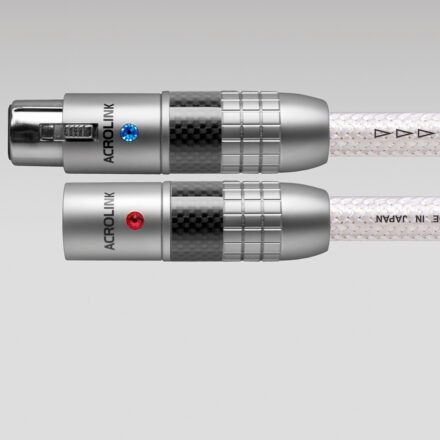 MEXCEL has a single goal: To master new and unprecedented territory for audio cables. Since its appearance in 2004, MEXCEL brought major innovation to the field of audio cables. Mitsubishi Cable Industries, developer of cables for the aerospace and defense industries, teamed up with audio cable specialist ACROLINK for this endeavor. Joint development by those two companies and ESOTERIC has given birth to MEXCEL cables delivering flat transmission characteristics with a wide frequency range going beyond the gigahertz frequency zone. The tremendous information volume carried by gigahertz frequency zone transmission has combined with high-purity 7N Cu (99.99999%) to unleash the potential of audio systems, transcending established concepts for analog and digital transmission cables. Now the fourth generation of MEXCEL cables is here as the result of our quest for a ultimate musical expression. We have now reached a new milestone with products destined to spur a tide of change never before seen in the history of audio cables.