The Ultimate Digital Cable is offered in a 1 metre length as standard. Constructed using top quality materials and proven construction techniques, The Ultimate Digital Cable is perfect for the modern digital age and has been trialled over many months by a selected panel of UK Audiophiles, the finished cable is a joy to listen to and will give your system an instant sound quality up-grade.
Here is some information about the cable in a listening test done by some members of The Art Of Sound Forum. One of the members described the cable as "a revelation"
The cable we use is a pure silver solid centre core, heavily shielded and screened to reject RFI/EMI, please do not be fooled into the silver is bright philosophy as it is simply un-true, our cable has been tested in a variety of systems both budget and high end and it performs well in all of them.
Terminated with what we consider one of the best RCA connectors available, the KLE Harmony RCA plug. We now offer 2 versions with the KLE Harmony RCA plugs, choose from the Pure Silver KLE Harmony as standard with the Absolute solid silver available as an up-grade.
Finally the entire cable assembly is covered in a carbon infused sleeving which not only protects the cable but also acts as a screen to stop the cable from acting as an aerial by picking up radio waves, very effective and proven technology.
Supplied as a 1 metre long cable, longer lengths can be provided on request.
Please note that when adding extra cable in the menu the system will also add the required amount of carbon infused braiding to the overall price.
The Ultimate Range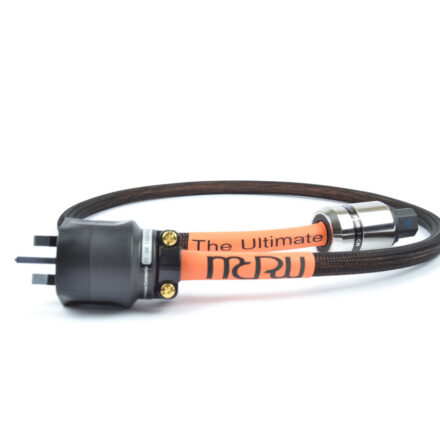 2 available ex-dem mint condition
1.5 metres long
No other offers apply
New 2021 design
5.6mm2 conductors
Quantum technology
Filtered plug and IEC
Carbon braiding
SR Orange fuse