While the career-defining performances within the grooves cannot be overlooked, Spinners remains equally notable for its historical importance. At the dawn of the 70s, Motown still held sway as the dominant soul style. Yet the Spinners' decision to move to Atlantic – prompted by a suggestion by Aretha Franklin – and refashion their approach with Bell signaled a sea change that ushered in a smoother, sweeter variety of R&B punctuated with sweeping strings, jazzy flourishes, brassy replies, and funk rhythms. Few, if any, vocal groups mesh these traits more convincingly, pleasingly, and naturally than the Spinners on this watershed effort.
Anchored by Top 5 smashes like "Could It Be I'm Falling In Love," Spinners signaled the beginning of a partnership with Bell that lasted seven years and elevated the band to stardom. Indeed, even in spite of the four hit singles, the record remains defined by an artistic consistency, watertight focus, and collective unity that make everything here deserving of close attention. Flush with catchy hooks and pop accents, each song is treated as a potential anthem. Laden with depth and richness, Bell's savvy, wide-open arrangements frame the Spinners' satiny singing with sensual class and refined delicacy.
Heaven-sent voices do the rest. Making his first appearance on record as a member, Philippe Wynne treats the carefully honed material as a breakout session for his dulcet tenor on tracks such as "One of a Kind (Love Affair)." Not to be outdone, the equally measured Bobbie Smith mesmerizes with his deft phrasing, reedy timbre, and sparkling clarity, never finer than on the million-selling "I'll Be Around." Solo or paired together, Wynne and Smith's glorious leads run the gamut from upbeat and optimistic to sad and forlorn, forming the backbone of a masterwork that addresses romance ("Just You and Me Baby"), regret ("How Could I Let You Get Away"), and social ills ("Ghetto Child") with consummate passion.
Track Listing
Just Can't Get You Out of My Mind
Just You and Me Baby
Don't Let the Green Grass Fool You
I Could Never (Repay Your Love)
I'll Be Around
One of a Kind (Love Affair)
We Belong Together
Ghetto Child
How Could I Let You Get Away
Could It Be I'm Falling In Love
Music Vinyl LP's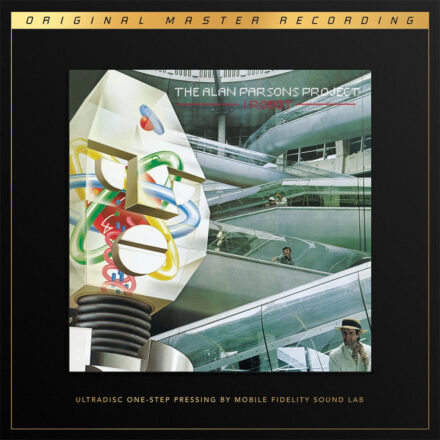 IN STOCK NOW!!
MASTERED FROM THE ORIGINAL MASTER TAPES: ULTRADISC ONE-STEP LP ELEVATES THE AUDIOPHILE STANDARD WHILE OFFERING ONE-FLIP CONVENIENCE Most audiophiles know Alan Parsons Project's
I Robot
by heart. Engineered by Parsons after he performed the same duties on Pink Floyd's
Dark Side of the Moon
, the 1977 record reigns as a disc whose taut bass, crisp highs, clean production, and seemingly limitless dynamic range are matched only by the sensational prog-rock fare helmed by the keyboardist. Not surprisingly, it's been issued myriad times. Can it be improved? Relish Mobile Fidelity's stupendous UltraDisc One-Step 180g 33RPM box set and the question becomes moot.