The Tellurium Q Ultra Blue Power cable (formerly known as Blue) is available as standard fitted with a gold plated MK plug and can also be supplied with a Furutech FI-E11 gold plated schuko plug no extra charge.
Tellurium Q put years of research and development into every product. The Blue XLR Interconnect cables are the entry level XLR that will surprise you with how good it sounds.
Tellurium Q's philosophy is to only release a product that they believe is to be of the best quality in that price range. Here at MCRU, we hold the same standard for our 'house' products.
Mains Cables R Us is an authorised stockist of Tellurium Q cables, and we keep their full cable range. We have demonstration sets that we can send out for evaluation, so please contact us to discuss your needs.
We use these cables in our own system (the Ultra Blue power cable is currently powering our Canor CD player, and it sounds brilliant), so we know just how good they are; and there is a 30 day money-back guarantee offered on everything we sell, providing total peace of mind.
The Tellurium Q Ultra Blue power cable has been launched to satisfy the demand for a quality mains lead that can outperform similarly priced competitors, but above all can give an improvement in sound quality commensurate with the cost.
Terminated with a quality gold-plated MK Toughplug and a Martin Kaiser gold-plated IEC connector, this power cable is in stock for immediate shipping.
Find out more about the Tellurium Q Ultra Blue Power Cable here on the Tellurium Q website
Reviews
"The Blue Power Cable is a lower cost variant of its brother, the Black, while the set of interconnects, the Black Phono Cables are the first of their type to be released by the company. Reviewing the Power Cables first by spinning a series of rock-based vinyl discs, I found the Blue a different beast to the Black: not better or worse, just different. Where the Black is meaty, powerful, almost guttural in its bass power, the Blue, while maintaining a focused, punchy bass, offered a better balanced presentation for the vinyl front-end, injecting more air into the upper frequencies while draining some of the more claustrophobic bass. This gave the Blue a breezy presentation. Upper mids seemed to relax, taking their time to consider detail and tonal colour. "
Read the full review on HiFiWorld
PLEASE NOTE DISCOUNT CODES CANNOT BE USED WITH ANY TELLURIUM Q PRODUCT
Mains Leads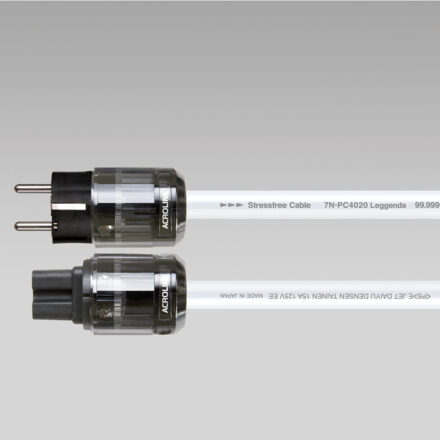 Acrolink 7N-PC4020 Legenda is a 3x14AWG power cable, made with 7N copper conductors for phase and neutral, 5N for ground. The terminals have metal elements silver-plated and perodized. 1.5m fitted with a Schuko plug