RCA Living Stereo classical LPs – the gold standard for top quality orchestral performance and sound!Remastered from the original master tape and cut at 33 1/3 RPM by Ryan Smith at Sterling SoundLacquers plated by Gary Salstrom and pressed on 200-gram vinyl at Quality Record Pressings!
RCA Living Stereo Reissue Series No. 2 – 25 newly-remastered classical mainstays!
Analogue Productions' RCA Living Stereo Reissue Series No. 2, with 25 newly remastered mainstay classical albums, will delight and astound your ears with their clarity and warm, rich tone. As with our first highly-regarded LSC series, shortcomings of previous editions have been improved upon — from the mastering, to the LP pressing, to the sharp-looking glossy heavyweight Stoughton Printing tip-on jackets that faithfully duplicate the original artwork, "Living Stereo" logo, "Shaded Dog" label and all!
Mastered by Ryan K. Smith at Sterling Sound from the original 3-track master tapes, cut at 33 1/3, and plated and pressed at Quality Record Pressings — makers of the world's finest-sounding vinyl LPs, — no other editions match these for the quietest 200-gram platters available.
Symphony No. 4 was written during the most tumultuous period of Tchaikovsky's life. It was during a period in his life when he was both recently married and divorced. During this time period he also attempted suicide. Of all his works, Symphony No. 4, is considered by many to have more emotional impact and musical structure then any of his earlier pieces in part due to the personal tragedies he endured while writing this symphonic masterpiece. This important work is performed by the Boston Symphony Orchestra and conducted by Pierre Monteux, the well-known Classical Conductor from Paris, known for the molding of the Boston Symphony Orchestra in the mid-nineteen twenties into an Orchestra who's reputation was known worldwide as having the "French" sound and for being the experts in French and Russian repertoire. Musicians: Boston Symphony Orchestra Pierre Monteux, conductor.
Track Listing
Side A
First Movement: Andante Sostenuto
Second Movement: Andantino In Modo Di Canzone
Side B
Third Movement: Scherzo: Pizzicato Ostinato
Fourth Movement: Finale: Allegro Con Fuoco
Music Vinyl LP's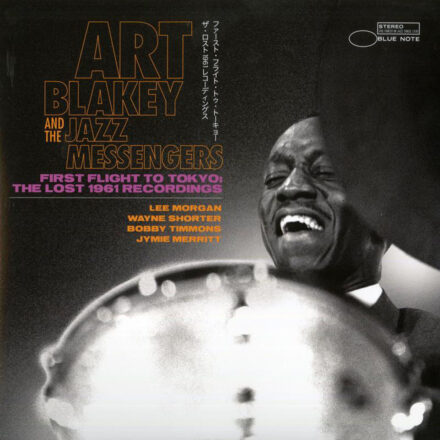 A previously unreleased live recording of drum legend Art Blakey with a classic line-up of the Jazz Messengers, featuring trumpeter Lee Morgan, tenor saxophonist Wayne Shorter, pianist Bobby Timmons, and bassist Jymie Merritt. It was captured on January 14, 1961, at Hibiya Public Hall in Tokyo during the band's first-ever tour of Japan. Co-produced by Zev Feldman and David Weiss, the audio was newly transferred from the original 1/4″ tape reels.