Constructed using the NEW silver plated 2.5mm lo-rad mains cable terminated with Supra gold plated IEC and Schuko connectors.
MCRU non intrusive internal filtering fitted inside the connectors. Top quality and performance guaranteed.
SPC – Silver plated copper, one of natures most powerful electrical conductor there is
LoRad stands for low radiation of electric and magnetic alternating fields, keeping you and your family free from harmful influence
The shield protects your equipment from radiating mains, RF pick-up and allows you to enjoy your hi-fi set or TV's full potential
Short pitch twisting of the lead cores cancels the magnetic alternating fields and will not infect adjacent interconnects with noise feedback
LoRad conceptual shielded design will result in a cleaner sound, better picture and a more healthy home and working invironment with low levels of harmful fields
Unbeatable price-performance ratio
Made in Sweden!
Supra LoRad SPC (Low Radiation, Silver Plated Copper) is a Mains cable Supra are proud to announce as one of their 40TH Anniversary offer. Unleash the electrical power by natures best conductor, Silver. All Supra's design features remains the same with class-leading shielding and immunity from harmful and sonically malignant fields such as RFI, magnetic and electrical alternating fields as well as low adjacent area alternating field impact.
Mains Leads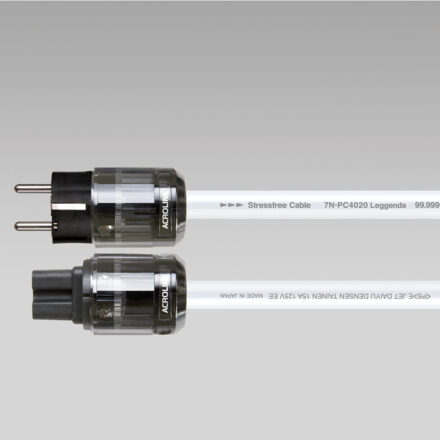 Acrolink 7N-PC4020 Legenda is a 3x14AWG power cable, made with 7N copper conductors for phase and neutral, 5N for ground. The terminals have metal elements silver-plated and perodized. 1.5m fitted with a Schuko plug