By improving power quality, network signal quality and TCXO technology, Bonn N8 improves the network signal quality. On Bonn N8, there is a total of 8 high quality gigabit Ethernet ports, which makes it possible to connect all audio devices at once. Through the network signal quality improvements from Bonn N8, it introduces significant improvement in music streaming playback through streaming service or NAS.
Innovative technology
Revolution with innovation to make music more musical and emotional. Silent Angel Bonn N8 features low electrical noise and high anti-interference ability. It prevents data loss and electrical noise. As a result, it generates high quality network signals.
Precise control of the clock signal
Silent Angel customized TCXO (Temperature Compensation crystal Oscillator) is highly accurate. The accuracy is 0.1ppm, which is much higher than normal crystal and higher than a normal TCXO. With this TCXO, Bonn N8 is able to generate a more accurate network signal and provides a more stable (music) data transmission.
Improved main board design
The Bonn N8 incorporates two electrical noise isolation circuits, with a noise rejection of 17 dB, in its power circuit. Two electrical noise isolation circuits, with noise rejection rate of 20 dB, for its clock generation circuit. These noise isolation circuit ensures Bonn N8 will work in a stable state, and as a result, it generates stable network signals.
High permeability EMI absorber
Furthermore, to reduce noise from digital circuits, the Bonn N8 has a special chosen EMI absorber at the inner side of the bottom of the case to absorb the EMI (Electro Magnetic Interference) from the inner digital circuits and to make the network signal and clock circuit more stable and clear. This ensures Bonn N8 works more stable and generates more clear data signals.
The innovative value of Bonn N8
Comparing to a general network switch, innovation and creative technologies is the core value of Bonn N8. The resulting improvements can be seen and proven on the signal measurements. Engineers at Thunder Data found Bonn N8 network signal to be much better than that of a general network switch.
Jitter improvement
The quality of a network signal of the Bonn N8 is 90% better compared to a general network switch in jitter measurements. (lower is better). The noise filter in its power circuit, provides purified power. This results in purer network signals.
Usage of the Bonn N8 network switch
Light indicators at front panel including power, alarm, link status and link speed of 8 ports. Makes it convenient to know the status of all network devices. Eight audio grade 100/1000 Base-T gigabit Ethernet ports at rear panel, suitable for your network audio devices and all your home network appliances.
Equipped with exchangeable AC plug and medical grade power adaptor, which reduces the electrical noise from AC power and prevents from affecting the quality of network signals. The power efficiency level is as high as rating VI and no load power consumption < 0.075W. Complete protection circuit design featuring short circuit, over load and over voltage protection.
The Bonn N8 is user upgradeable by swapping the original power supply for an audio grade, linear power supply. At first, this upgrade may seem overly expensive, but for sure the price/performance ratio only improves by doing so.
Lab12 Products
High End Audio Power Cable by Lab12 £595.00 1.5 meter US version £649.00 1.5 meter UK version £169.00 extra half meter
Free MCRU No. 75 mains lead
Input Sampling Rate up to 24bit/192 kHz
Non Oversampling mode
8x Multibit Philips DACs network
2x Dual Triodes tubes I/V analog output stage
6 Separate Regulated Power Supplies
Analog retro Nissei VU meters
6mm Aluminum face panel
Five Years Guarantee
Digital Interconnect interconnect by Lab12 SPDIF 75 ohm coaxial with RCA connectors. AES/EBU 110 ohm with XLR connectors. £395.00 RCA/BNC 1METER £450.00 AES/EBU XLR 1 METER £140.00 extra half meter (stereo)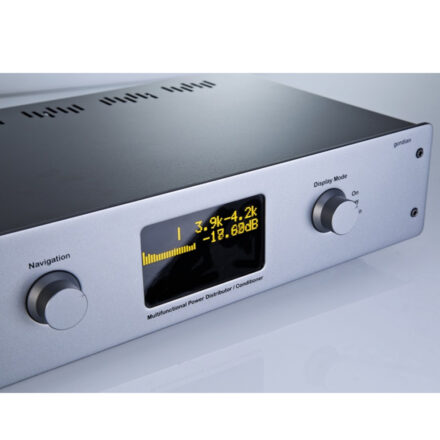 UK and EU sockets available
• 230V/50Hz, 115V/60Hz versions • OLED display • Adaptive EMI RFI filtering • Adaptive Common and differential filters • Adaptive Power Factor correction • Overvoltage protection • FFT analysis • DC voltage analysis • THD analysis • Power consumption analysis • AC voltage, current analysis • Sleep mode system • 5mm Aluminum face panel with luxury painting • Five Years Guarantee
This is where it all started for the Lab12. Our love for music and high-end audio was our first and foremost challenge, explored years back throughout the headphone pre-amplifier. Dealing with the fragile signal and transforming it into the true high-end potent audio headphone amplifier is not the task, that everyone dares to explore.
Full Review Here
• KT170 Valves • Remote Control • Large OLED display • Blue Velvet ALPS motorized potentiometer • Connectivity and extendibility through I/O Upgrade Modules • Sophisticated protection and bias monitoring system • No feedback design • SRSG® implementation • Gold plated Teflon RCA connectors • Gold plated tube sockets • 5mm aluminum face panel with luxury painting • Five years guarantee