Acoustic Sounds Series reissues from Verve/Universal Music
Monthly releases highlighting the world's most historic and best jazz records!
Mastered by Ryan K. Smith at Sterling Sound from the original analog tapes
180-gram LPs pressed at Quality Record Pressings!
Stoughton Printing gatefold old-style tip-on jackets
Series supervised by Chad Kassem CEO of Acoustic Sounds
How Haynes managed to hook up with Roland Kirk for Out Of The Afternoon is anyone's guess (as far as I can tell they didn't record together elsewhere, and Kirk did not make very many appearances as a sideman), writes The Jazz Record, but in any case when they stepped into the studio in May of 1962 the result was an exciting album that remains criminally under-appreciated despite the outstanding contributions of the all the players present. Tommy Flanagan shines on the piano, his delicate touch the perfect complement to Kirk and Haynes.
"If you're not familiar with Kirk, just check out 'Raoul' and 'Snap Crackle' (both Haynes originals, the second named after a euphemism for his drumming style) where the great jazzman employs his style of playing more than one brass instrument at the same time. On 'Raoul' (which also features an outstanding bowed bass solo by Henry Grimes) Kirk plays the tenor sax and the manzello both simultaneously and individually. On 'Snap Crackle' things get even more interesting. At one point he plays the tenor, the strich, the manzello and the flute at the same time, then follows that with a flute solo that is nothing short of pure Kirk musicianship. He takes the flute out of the bell of his tenor, plays an urgent solo for about six bars before then accompanying the flute with both a nose flute (it is just what it sounds like it is) and then using a humming in his throat as yet another accompanying instrument. Some say Kirk is an acquired taste, I say he's pure genius" — The Jazz Record
Musicians:
Roy Haynes, drums
Roland Kirk, tenor sax, manzello, strich, C flute, nose flute
Tommy Flanagan, piano
Henry Grimes, bass
Track Listing
Side A
1. Moon Ray
2. Fly Me To The Moon (In Other Words)
3. Raoul
Side B
1. Snap Crackle
2. If I Should Lose You
3. Long Wharf
4. Some Other Spring
Music Vinyl LP's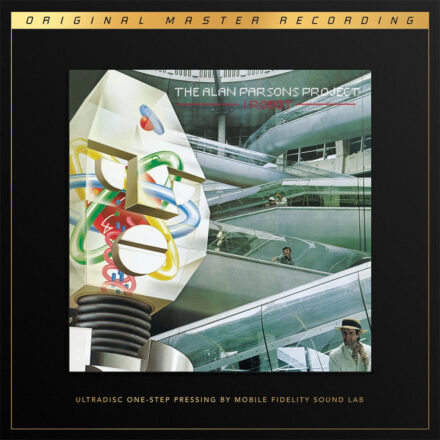 IN STOCK NOW!!
MASTERED FROM THE ORIGINAL MASTER TAPES: ULTRADISC ONE-STEP LP ELEVATES THE AUDIOPHILE STANDARD WHILE OFFERING ONE-FLIP CONVENIENCE Most audiophiles know Alan Parsons Project's
I Robot
by heart. Engineered by Parsons after he performed the same duties on Pink Floyd's
Dark Side of the Moon
, the 1977 record reigns as a disc whose taut bass, crisp highs, clean production, and seemingly limitless dynamic range are matched only by the sensational prog-rock fare helmed by the keyboardist. Not surprisingly, it's been issued myriad times. Can it be improved? Relish Mobile Fidelity's stupendous UltraDisc One-Step 180g 33RPM box set and the question becomes moot.