"Every one of our products is totally 'made in Japan', even down to the most minute component; all so we can maintain our high standard of quality and reliability" says Oyaide. "It is essential to have every production system under our direct and strict control. Our products are for a special and demanding market, where minute vibration from a loose connection or due to imperfect choice of material could become a vital failure. We carefully design each and every component for ease of assembling, simplicity and safety. We carefully select materials for superior sound quality, durability and reliability. For that requirement, cost factor is secondary. Instead we ignore excess decoration and unnecessary complexity. We are proud to present true value-for-money products for your enjoyment."
Oyaide's rationale behind the design and production of the STB-CM carbon pipes:-
"You can benefit from a myriad of applications from this innovative product. Use as replacement weights for the Oyaide STB-MS record clamp/stabiliser, or use as equipment supports (see specification below) and get these pipes to benefit your sound system straight away.
Focusing attention on the acoustic property of the carbon, we at Oyaide Electric have released many audio accessories. Applying this know-how, the STB-CM was produced as the multi-use carbon pipe, which is made of 3mm thick, highly-rigid and lightweight carbon CFRP. This simply- designed pipe works as the replacement weight for the Oyaide original STB-MS vinyl stabiliser, a cable stabiliser for line, speaker, and power cables; and an insulator placed under your equipment. Furthermore, it has other possibilities as a component part of DIY items. STB-CM will become a vital part of your ideas and production.
The high-speed vibration damping by CFRP pipe.
After carbon-fibre is multi-layered and heat-hardened, it is moulded into a 3mm thick CFRP pipe. The highly-rigid property of carbon quickly attenuates vibration. It also enhances resolution and S/N ratio due to the electro-magnetic shielding.
As the replacement weights for STB-MS stabiliser.
STB-CM has the same dimensions as the weight of STB-MS and can be replaced by these pipes. You can tune the sound character if you can change the weights to STB-CM or change half of them. Generally speaking, the timbre would be sharper if more STB-CM are loaded. (STB-HW cannot accept the STB-CM because of its height.)"
STB-CM-4/STB-CM-6
Material

CFRP(Carbon UD + Carbon cloth)

Dimension

Outer Diameter φ20、Inner Diameterφ14、Thickness 3mm、height 17mm(pipe shape)

Weight

4g

Withstand load

500kg/piece

Heat resistance

120℃

Packing

4 (STB-CM-4)

6 (STB-CM-6)
Sold in packs of 4 or 6 pipes, the above price is for a pack of 4. Please contact us if you require a pack of 6.
You can learn more about Oyaide by using this link to visit their web site.
Equipment Supports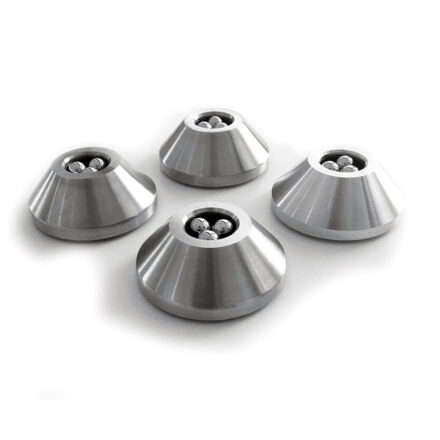 Blue Horizon's new Spike Shoe Extreme is the ultimate system to eliminate resonance energy. The Blue Horizon Spike Shoe Extreme is a high mass, multi resonance diffuser that transfers energy almost through minimal point contact. The primary purpose of the design is to channel all resonance energy in the most effective and direct way possible by utilizing the correct design philosophies combined with material usage.