Now sold individually, £2.50 each, buy as few or as many as you need.
The original Magnetic Wave Absorber, (MWA) series, was released by Oyaide in 2009 and has become very popular for its effects against noise generated by electronic magnetic waves around equipment.
MWA-RC was created by the development that we applied this MWA material for a RCA cover cap for preventing EMA, noise and dust with easy application by simply attaching them to unused RCA jacks on your equipment.
The Key features of MWA-RC are:
·         Very easy to fit – simply place them on any unused RCA jack
·         Manufactured from polypropylene which dampens the tiny vibrations found in the unused contacts.
·         The use of 1mm thick MWA absorbers on the caps reduces noise generated from the contacts.  This material is called SENDUST which Oyaide have applied from a technology developed in Japan.  By processing it into a flat shape this has increased the absorbing property against Electric Magnetic Waves.
·         The cap also prevents dust build up
·         Using the MWA-RC on multiple contacts can make the improvements much greater
·         Suitable for use on input and output jacks.
MWA-RC are supplied in sets of 6 and are very reasonably priced at £15 for a set of 6.
Thought you might like to add this additional information onto my review
UPDATE
My son has just returned from abroad, and hasn't heard my system since before fitting Oyaide Magnetic Wave Absorbers. Whilst I was at work he had listened to my system, and rang me at work asking what I'd done to it, "The bass is a lot tighter, and the overall sound much smoother, especially the high frequencies" he said. Thing is he had no idea I'd done anything to the system, it was a true blind test, and he was amazed at the improvement – especially when I told him how little it cost!  Regards, Adrian
Cleaning & More Accessories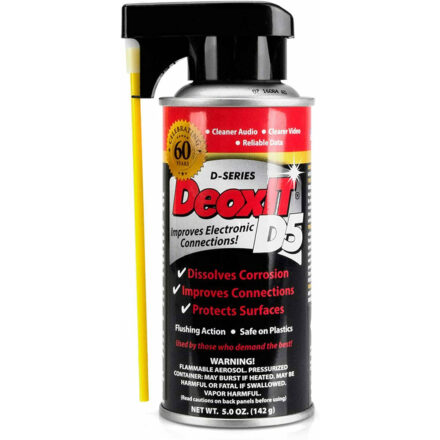 Workshop essential

Cleans noisy switches and contacts

Great for guitar and amp repairs

Rejuvinates components

Renowned worldwide for its quality

Cannot be posted courier only