The Oyaide range of IEC connectors undergo attention to detail like no other in the hi-fi industry.
"These plugs are not merely high grade; every step is taken to realise 'State of the Art' audio" say Oyaide themselves.
"Every one of our products is totally 'made inJapan', even down to the most minute component; all so we can maintain our high standard of quality and reliability. It is essential to have every production system under our direct and strict control. Our products are for a special and demanding market, where minute vibration from a loose connection or due to imperfect choice of material could become a vital failure. We carefully design each and every component for ease of assembling, simplicity and safety. We carefully select materials for superior sound quality, durability and reliability. For that requirement, cost factor is secondary. Instead we ignore excess decoration and unnecessary complexity. We are proud to present true value-for-money products for your enjoyment."
The C-029 IEC is Oyaide's entry-level connector, with brass contacts and no plating. It provides excellent value for money and its sound is characterised by a natural tone without a feeling of colouration.
You can learn more about Oyaide by using this link to visit their web site.
IEC & Fig.8 Connectors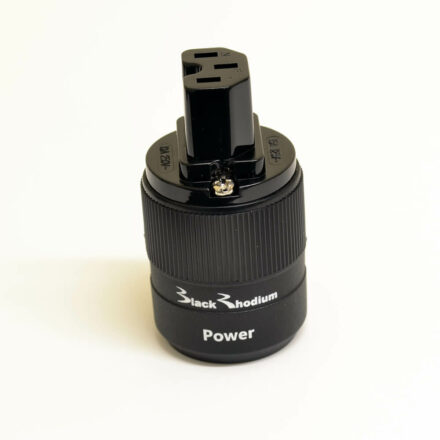 Brand new IEC connector from Black Rhodium. Featuring rhodium plated copper contact pins and large cable entry receptacles, quality engineering and robust construction.