MS HD Power 13A UK Mains Plugs now available from MCRU, all the plugs have the same design with different plating options. This is the pure copper version with polished copper contact pins.
Available in 4 different finishes, all with every contact surface plated in the chosen finish.
Patented UK 3 pin mains plug with polished pins, securing up to 16mm diameter cables and up to 4mm power and earth conductors internally.
PLEASE SEE THE LATEST REVIEW in HI-FI PIG
This high quality UK 13A 3 pin plug has been designed to be used with audio equipment power cables for the best power transmission with no compromises. All the electrical parts (polished pins and all internal parts) are made from premium quality copper, the Fuse Clips are made of high spring rate Phosphor Bronze – and supplied fitted with a high quality 13A silver plated fuse.
The patented design allows for easy cable fitting (instructions provided) and the ease of cable fitting cannot be under estimated, some other brands are difficult to wire up with thicker cables.
The plug casing is manufactured from nylon material, offering durability, high insulation, light weight and good looks.
The heavy duty mains wire-clamps design ensure an air tight connection to ensure perfect power transmission and also protect the power cable wires from damage over time – inferior plugs secure the cables by the grub screws twisting down onto the cable directly and can be prone to material 'creep' over time, causing damage.
Compliance with: BS-1363 (plug), BS-1362 (fuse).
Mains voltage rating: 200~240 VAC x 13A
Size (Housing Only): Width 68mm, Depth 33mm, Height 68mm (inc. cable clamp)
Mains Plugs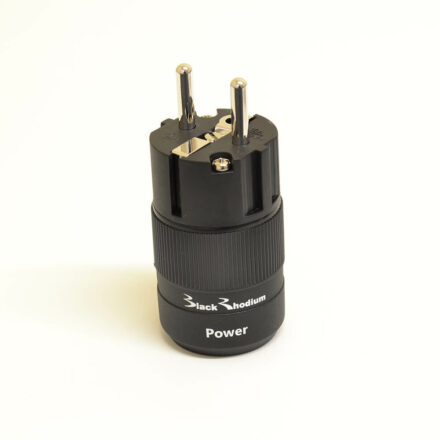 Rhodium plated copper pins, quality construction and able to accomodate thick gauge cables, the Black Rhodium Schuko plug is quality through and through.