This is a reference-standard reissue. You'll hear poetic lyricism pouring out of Wayne Shorter's horn, the breadth and definition of the notes spreading across an enormous soundstage. Never before have drummer Tony Williams' rim shots ricocheted with such purpose or his light percussive work mirrored that of a feather touching skin. Similarly, Herbie Hancock's piano runs now occupy their own space, where their relationship to the central rhythms and front line becomes clearer.
Prizing inflection and nuance more so than heady solos or uptempo flights, Sorcerer mesmerizes with cerebral properties and cascades of emotional interplay. Such beauty emerges in the mellow ballad "Pee Wee," an indelible statement of restrained authority and sophisticated expression. The swirling title track unfolds as jazz shadowplay, Hancock, Shorter, and Williams mirroring one another's moves with guile and purpose. The opening "Prince of Darkness" showcases the ensemble's reach and communication, every musician going in seemingly different directions yet ending up on the same page
A lasting example of Davis' visionary insight, Sorcerer is comprised entirely of pieces written by his band mates. Indeed, save for the closing "Nothing Like You" – a brief tribute to Davis' eventual wife, who also graces the cover, recorded in 1962 and adorned with vocals from Bob Dorough – the album represents a further maturation and refinement of a quintet that stands as one of the finest in jazz history.
Track Listing
Prince of Darkness
Pee Wee
Masqualero
The Sorcerer
Limbo
Vonetta
Nothing Like You"
Music Vinyl LP's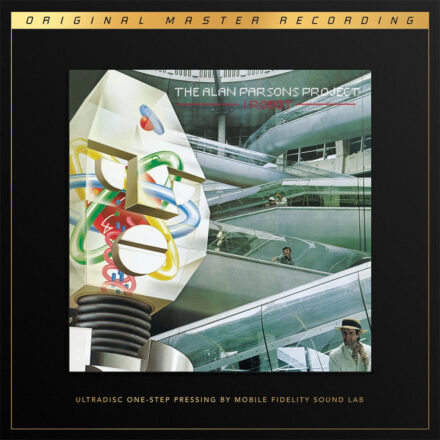 IN STOCK NOW!!
MASTERED FROM THE ORIGINAL MASTER TAPES: ULTRADISC ONE-STEP LP ELEVATES THE AUDIOPHILE STANDARD WHILE OFFERING ONE-FLIP CONVENIENCE Most audiophiles know Alan Parsons Project's
I Robot
by heart. Engineered by Parsons after he performed the same duties on Pink Floyd's
Dark Side of the Moon
, the 1977 record reigns as a disc whose taut bass, crisp highs, clean production, and seemingly limitless dynamic range are matched only by the sensational prog-rock fare helmed by the keyboardist. Not surprisingly, it's been issued myriad times. Can it be improved? Relish Mobile Fidelity's stupendous UltraDisc One-Step 180g 33RPM box set and the question becomes moot.