A crucial part of the next phase of Mobile Fidelity's Miles Davis restoration series, the 1960 landmark has been afforded the ultimate white-gloves treatment. Mastered from the original master tapes and pressed on dead-quiet MoFi SuperVinyl at RTI, the label's exquisite UltraDisc One-Step 45RPM 180g 2LP box set dramatically expands the soundstages and eradicates a dryness that many critics found inhibitive to the record's enjoyment. Listeners can now hear the full perspective long deserved by the woodwinds, strings, and percussion, all of which come alive with unprecedented definition and detail.
The premium packaging and beautiful presentation of the numbered, limited-edition UD1S Sketches of Spain pressing befit the record's historical importance. Housed in a deluxe box, the reissue features special foil-stamped jackets and faithful-to-the-original graphics that illuminate the splendor of the 1960 LP. Aurally and visually, this UD1S set exists as a curatorial artifact meant to be preserved, touched, and examined. It is made for discerning listeners who prize sound quality and production, and who desire to fully immerse themselves with the album. And who wouldn't want to go deep with Sketches of Spain?
Whether it is the somber mood piece ""Concierto de Aranjuez (Adagio),"" renowned for Davis' flugelhorn performance, or the folktale-based "Solea," Sketches of Spain transfixes with playing, ideas, and innovations exclusive to this incomparable effort. It's one reason why Mobile Fidelity's engineers took every available measure to insert listeners into the space originally occupied by Davis, bassist Paul Chambers, drummer Jimmy Cobb, percussionist Elvin Jones, and an 18-piece orchestra. The results are as breathtaking as the music.
Multi-note motifs, brief improvisational solos, fanfare sweeps, and contrapuntal exchanges inform flamenco-spiced pieces. Davis' famous Harmon-muted trumpet is complemented by an assortment of bassoons and French horns. Heard together, they create pleasing contrasts and sounds (pp, mf, ppp) that get to what resides at the heart of Sketches of Spain: color. Seldom, if ever, did Davis ever so expressively and liberally paint with color. And in Evans, he has a likewise-minded partner to help draw out tones, shades, layers, and textures. What they achieved continues in the 21st century to draw praise from the entire music community.
Ranked #358 on Rolling Stone's 500 Greatest Albums of All Time, deemed "a work of unparalleled grace and lyricism" by noted scribe J.D. Considine, bestowed a five-star review from DownBeat, and noted by Q to have taken "jazz in a new direction, the Grammy Award-winning effort has never sounded or looked better.
MoFi SuperVinyl
Developed by NEOTECH and RTI, MoFi SuperVinyl is the most exacting-to-specification vinyl compound ever devised. Analog lovers have never seen (or heard) anything like it. Extraordinarily expensive and extremely painstaking to produce, the special proprietary compound addresses two specific areas of improvement: noise floor reduction and enhanced groove definition. The vinyl composition features a new carbonless dye (hold the disc up to the light and see) and produces the world's quietest surfaces. This high-definition formula also allows for the creation of cleaner grooves that are indistinguishable from the original lacquer. MoFi SuperVinyl provides the closest approximation of what the label's engineers hear in the mastering lab.
More About Mobile Fidelity UltraDisc One-Step and Why It Is Superior
Instead of utilizing the industry-standard three-step lacquer process, Mobile Fidelity Sound Lab's new UltraDisc One-Step (UD1S) uses only one step, bypassing two processes of generational loss. While three-step processing is designed for optimum yield and efficiency, UD1S is created for the ultimate in sound quality. Just as Mobile Fidelity pioneered the UHQR (Ultra High-Quality Record) with JVC in the 1980s, UD1S again represents another state-of-the-art advance in the record-manufacturing process. MFSL engineers begin with the original master tapes and meticulously cut a set of lacquers. These lacquers are used to create a very fragile, pristine UD1S stamper called a "convert." Delicate "converts" are then formed into the actual record stampers, producing a final product that literally and figuratively brings you closer to the music. By skipping the additional steps of pulling another positive and an additional negative, as done in the three-step process used in standard pressings, UD1S produces a final LP with the lowest noise floor possible today. The removal of the additional two steps of generational loss in the plating process reveals tremendous amounts of extra musical detail and dynamics, which are otherwise lost due to the standard copying process. The exclusive nature of these very limited pressings guarantees that every UD1S pressing serves as an immaculate replica of the lacquer sourced directly from the original master tape. Every conceivable aspect of vinyl production is optimized to produce the most perfect record album available today.
Track Listing
Side A
Concierto de Aranjuez (Adagio)
Will O' the Wisp
Side B
The Pan Piper
Saeta
Solea
Music Vinyl LP's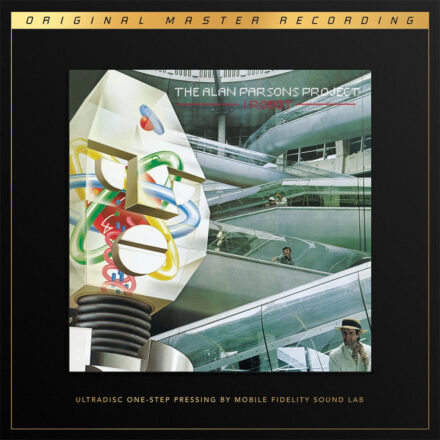 IN STOCK NOW!!
MASTERED FROM THE ORIGINAL MASTER TAPES: ULTRADISC ONE-STEP LP ELEVATES THE AUDIOPHILE STANDARD WHILE OFFERING ONE-FLIP CONVENIENCE Most audiophiles know Alan Parsons Project's
I Robot
by heart. Engineered by Parsons after he performed the same duties on Pink Floyd's
Dark Side of the Moon
, the 1977 record reigns as a disc whose taut bass, crisp highs, clean production, and seemingly limitless dynamic range are matched only by the sensational prog-rock fare helmed by the keyboardist. Not surprisingly, it's been issued myriad times. Can it be improved? Relish Mobile Fidelity's stupendous UltraDisc One-Step 180g 33RPM box set and the question becomes moot.