Davis conceived Bitches Brew by having the musicians stand in a semi-circle, where he pointed at them with vague directions for tempo, solos, and cues. The collective improvisation and interplay spawned a galaxy of melodies and grooves that were later spliced together by producer Ted Macero. Here, these distinct creations take shape with utmost realism. Compositions stretch across jet-black backgrounds and paint abstract canvases on par with those of Axis: Bold As Love and Abraxas. Juxtaposed percussion, loose jams, and melodic segues explode with impressionistic verve.
Bitches Brew also boasts visionary artwork. By design, the lavish packaging and gorgeous presentation of the UD1S Bitches Brew pressing befit such extremely select status. Housed in a deluxe box, it features special foil-stamped jackets and faithful-to-the-original graphics that illuminate the splendor of the recording. No expense is spared. Aurally and visually, it exists as a curatorial artifact meant to be preserved, touched, and examined. It is made for discerning listeners that prize sound quality and production, and who desire to fully immerse themselves in everything surrounding the album, from the images to the finishes. And this is one effort where every last detail matters.
Gathering a Hall of Fame-worthy lineup of musicians and tweaking it according to his desires, Davis follows through on his idea to "put together the greatest rock and roll band you ever heard" on Bitches Brew. Central to his proposition is the presence of two (and sometimes three) drummers and two bassists, a tactical move that makes rhythms a central focus. Akin to the futuristic album cover art, the drum-driven suites head toward distant universes and uncharted territories. At once hypnotizing and grooving, they chart maverick adventures via quixotic rock, funk, and R&B elements.
Conceptually, Davis described Bitches Brew as "a novel without words" and "an incredible journey of pain, joy, sorrow, hate, passion, and love." The vast psychedelic expanses of warped echoes, liquid reverb, and tape loops confirm such ambitious contrasts of light and dark, fear and hope. Yet the most absolute characteristic of the watershed effort lies in how it resists definitive interpretation and encourages free thought – the very principles with which Davis conceived the everlasting beauty and fascination that remains Bitches Brew.
Don't miss the rare opportunity to experience the album at its full potential, a dream fully realized by Mobile Fidelity.
MoFi SuperVinyl
Developed by NEOTECH and RTI, MoFi SuperVinyl is the most exacting-to-specification vinyl compound ever devised. Analog lovers have never seen (or heard) anything like it. Extraordinarily expensive and extremely painstaking to produce, the special proprietary compound addresses two specific areas of improvement: noise floor reduction and enhanced groove definition. The vinyl composition features a new carbonless dye (hold the disc up to the light and see) and produces the world's quietest surfaces. This high-definition formula also allows for the creation of cleaner grooves that are indistinguishable from the original lacquer. MoFi SuperVinyl provides the closest approximation of what the label's engineers hear in the mastering lab.
More About Mobile Fidelity UltraDisc One-Step and Why It Is Superior
Instead of utilizing the industry-standard three-step lacquer process, Mobile Fidelity Sound Lab's new UltraDisc One-Step (UD1S) uses only one step, bypassing two processes of generational loss. While three-step processing is designed for optimum yield and efficiency, UD1S is created for the ultimate in sound quality. Just as Mobile Fidelity pioneered the UHQR (Ultra High-Quality Record) with JVC in the 1980s, UD1S again represents another state-of-the-art advance in the record-manufacturing process. MFSL engineers begin with the original master tapes and meticulously cut a set of lacquers. These lacquers are used to create a very fragile, pristine UD1S stamper called a "convert." Delicate "converts" are then formed into the actual record stampers, producing a final product that literally and figuratively brings you closer to the music. By skipping the additional steps of pulling another positive and an additional negative, as done in the three-step process used in standard pressings, UD1S produces a final LP with the lowest noise floor possible today. The removal of the additional two steps of generational loss in the plating process reveals tremendous amounts of extra musical detail and dynamics, which are otherwise lost due to the standard copying process. The exclusive nature of these very limited pressings guarantees that every UD1S pressing serves as an immaculate replica of the lacquer sourced directly from the original master tape. Every conceivable aspect of vinyl production is optimized to produce the most perfect record album available today.
Track Listing
Side A
Pharaoh's Dance
Bitches Brew
Spanish Key

Side B
John McLaughlin
Miles Runs the Voodoo Down
Sanctuary
Music Vinyl LP's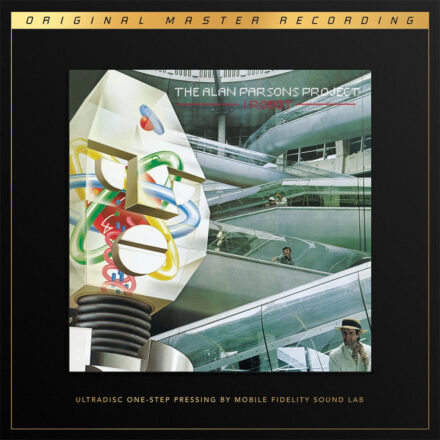 IN STOCK NOW!!
MASTERED FROM THE ORIGINAL MASTER TAPES: ULTRADISC ONE-STEP LP ELEVATES THE AUDIOPHILE STANDARD WHILE OFFERING ONE-FLIP CONVENIENCE Most audiophiles know Alan Parsons Project's
I Robot
by heart. Engineered by Parsons after he performed the same duties on Pink Floyd's
Dark Side of the Moon
, the 1977 record reigns as a disc whose taut bass, crisp highs, clean production, and seemingly limitless dynamic range are matched only by the sensational prog-rock fare helmed by the keyboardist. Not surprisingly, it's been issued myriad times. Can it be improved? Relish Mobile Fidelity's stupendous UltraDisc One-Step 180g 33RPM box set and the question becomes moot.