MCRU have introduced a new ref. mains plug which we have chosen specifically to fit our number one selling mains cable the belden 19364. The same quality of plug with plating carried out by a company with over 50 years in the plating business. The plug will fit cable diameters up to 12mm.
After years of trialling many UK mains plugs for audiophile use, we have finally found one that does 95% of what is needed for audiophile applications. A new design of mains plug, with improved casing for extra grip and fuller contact within the mains wall socket, reversible cord grip for wider cable diameters up to 12mm.
The silver plating has been improved and the quality is now amongst the best available at any price, silver is the best electrical conductor of all known metals, closely followed by copper. A pure silver mains plugs is not practicle because silver is too soft but a silver plated mains plug will give near the performance at a fraction of the cost.
The nearest equivalent to our new plug is the MK Toughplug but this has a slight problem because the cord grips do not accept larger diameter cables without cutting them which can damage delicate cables. Our new plug has a screwn down reversible cord grip so no damage will take place guaranteed.
Top Performance can be assured from this premium UK mains plug. All contact surfaces including the fuse and holder have been silver plated. The plugs require no modification to accept thick wires. Silver plating improves conductivity. A vast improvement over standard brass plugs.
The old design plug is no longer available, if you place an order now we will send the new design as soon as they are ready.
Mains Plugs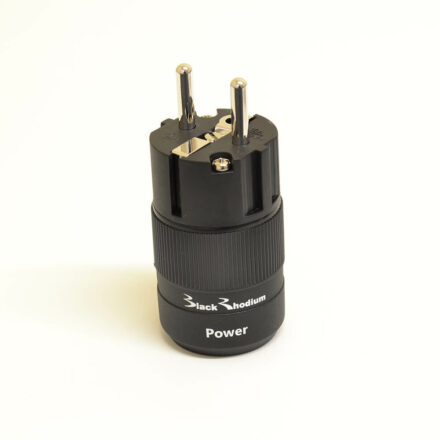 Rhodium plated copper pins, quality construction and able to accomodate thick gauge cables, the Black Rhodium Schuko plug is quality through and through.