The MCRU No.6 is a bespoke manufactured tonearm cable using the best pure silver wire we could find together with top quality shielding (essential to stop the cable picking up RFI/EMI casuing hum in the system) and terminated with the new KLE Harmony pure silver RCA plugs which to our ears offer superlative performacne for modest outlay.
Available with standard 5 pin mini din straight or right angled and also as RCA-RCA to use with turntables having phono sockets on the back or to use from phono stage to amplifier.
A quality tonearm cable guaranteed or your money back.
Tone-Arm Cables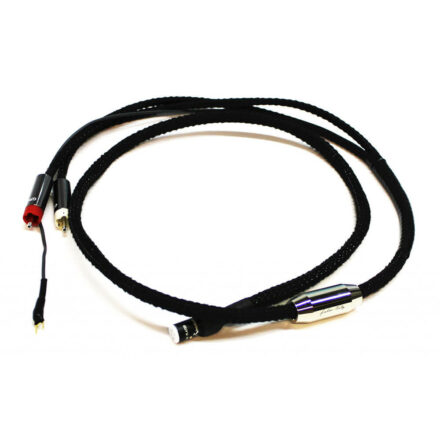 The special design features of Silver Groove include:
Ultra low 'Proximity Effect' Magnetic Field distortion due to added inter-conductor distance due to  braid over conductor
99.99% Pure Silver conductor wires
Low loss PTFE insulation for low dielectric absorption
Flexibility
Mechanical Vibration Suppression Materials used in Construction
NOW HALF PRICE
RFI noise reduction technology to reduce distortion from radiated RFI
Rhodium Plated connectors
Low capacitance design for use with magnetic cartridges
The special design features of Silver Groove include:
Ultra low 'Proximity Effect' Magnetic Field distortion due to added inter-conductor distance due to  braid over conductor
99.99% Pure Silver conductor wires
Low loss PTFE insulation for low dielectric absorption
Flexibility
Mechanical Vibration Suppression Materials used in Construction
RFI noise reduction technology to reduce distortion from radiated RFI
Rhodium Plated connectors
Low capacitance design for use with magnetic cartridges
1.3 metre standard length
Also available as RCA-RCA