Blue would literally change everything shortly after its release in June 1971. But what's even more remarkable about Joni Mitchell's exponentially influential and emotionally candid fourth record is that, more than 50 years later, the largely autobiographical work continues to alter contemporary music, cultural, and songwriting landscapes.
More About Mobile Fidelity UltraDisc One-Step and Why It Is Superior
Instead of utilizing the industry-standard three-step lacquer process, Mobile Fidelity Sound Lab's new UltraDisc One-Step (UD1S) uses only one step, bypassing two processes of generational loss. While three-step processing is designed for optimum yield and efficiency, UD1S is created for the ultimate in sound quality. Just as Mobile Fidelity pioneered the UHQR (Ultra High-Quality Record) with JVC in the 1980s, UD1S again represents another state-of-the-art advance in the record-manufacturing process. MFSL engineers begin with the original master tapes and meticulously cut a set of lacquers. These lacquers are used to create a very fragile, pristine UD1S stamper called a "convert." Delicate "converts" are then formed into the actual record stampers, producing a final product that literally and figuratively brings you closer to the music. By skipping the additional steps of pulling another positive and an additional negative, as done in the three-step process used in standard pressings, UD1S produces a final LP with the lowest noise floor possible today. The removal of the additional two steps of generational loss in the plating process reveals tremendous amounts of extra musical detail and dynamics, which are otherwise lost due to the standard copying process. The exclusive nature of these very limited pressings guarantees that every UD1S pressing serves as an immaculate replica of the lacquer sourced directly from the original master tape. Every conceivable aspect of vinyl production is optimized to produce the most perfect record album available today.
Track Listing
Side A
All I Want
My Old Man
Little Green
Carey
Blue
Side B
California
This Flight Tonight
River
A Case of You
The Last Time I Saw Richard
Music Vinyl LP's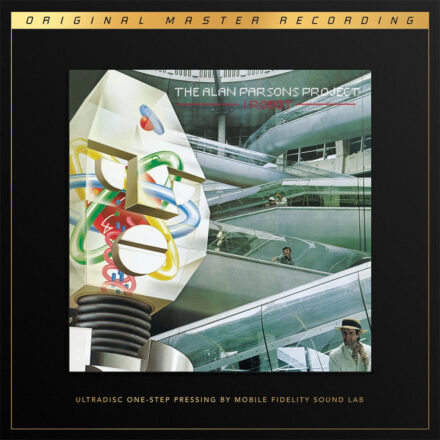 IN STOCK NOW!!
MASTERED FROM THE ORIGINAL MASTER TAPES: ULTRADISC ONE-STEP LP ELEVATES THE AUDIOPHILE STANDARD WHILE OFFERING ONE-FLIP CONVENIENCE Most audiophiles know Alan Parsons Project's
I Robot
by heart. Engineered by Parsons after he performed the same duties on Pink Floyd's
Dark Side of the Moon
, the 1977 record reigns as a disc whose taut bass, crisp highs, clean production, and seemingly limitless dynamic range are matched only by the sensational prog-rock fare helmed by the keyboardist. Not surprisingly, it's been issued myriad times. Can it be improved? Relish Mobile Fidelity's stupendous UltraDisc One-Step 180g 33RPM box set and the question becomes moot.