Furutech FT-SWS NCF Rhodium Schuko Wall Socket
Incorporated into new NCF series of Furutech products, Nano Crystal² Formula — NCF is comprised of a special crystalline material that has two "active" properties. First, it generates negative ions that eliminate static and secondly, it converts thermal energy into far-infrared. Furutech then combines this remarkable crystalline material with nano-sized ceramic particles and carbon powder for their additional "Piezo Effect" damping properties. The resulting Nano Crystal² Formula is the ultimate electrical and mechanical damping material – only found in Furutech products!
SPECIFICATIONS
•    α (Alpha) Pure Copper main Conductor (t:0.5mm)
•    Insulation Materials: Nylon/fiberglass incorporating special "NCF" anti-resonance damping material – nano-sized crystalline, piezo ceramic particles and carbon powder.
•    1.0mm thick Bracket with a Zinc/steel brace plate
•    Carbon fiber finished Cast Zn-Mg Alloy Front Plate
•    Specified for wire diameters of 2.8mm or 5.5 Sq.mm/10AWG Max. (set screw)
•    Dimensions: 95.0mm (L) x 95.0mm (W) x 48.0mm(H)
•    Furutech's total attention to detail and build quality extends right down to a specially designed patent-pending pressure plate that increases the contact area of the Alpha Conductors.
Mains Wall Sockets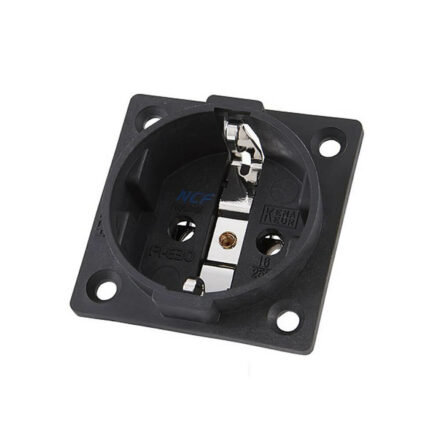 This is a schuko socket to accept a schuko mains plug, you will need the appropriate chassis to connect it to.