Furutech is justifiably proud of its reputation for engineering, build-quality and performance, and has won the loyal support of audio enthusiasts worldwide for their finely made and beautiful sounding cables and audio accessories.
Furutech performance is legendary in the hi-fi industry, and they continue to bring exceptional products to the market that are carefully engineered to guarantee the best sound per pound.
Furutech use only audiophile-quality parts and plugs in this superlative mains power lead for use with Blu-Ray players, Sky HD boxes, or any piece of equipment with a figure 8 socket.
Optimise the power supply to any equipment with a Fig.8 socket, improve sound and picture quality by using the best available mains lead possible.
All parts used are done so to optimise sound and picture quality: additionally, this mains lead utilises the Faraday Loop principal to keep mains interference and RFI (radio frequency interference) away from your Sky box or Blu-Ray player to further improve performance.
Made using Furutech silver-plated mains cable and the new Furutech audiophile gold-plated fig. 8 connector, the lead is finished off with a fully gold-plated Furutech mains plug (including a gold-plated Bussmann fuse) for optimum performance.
We believe there is no better solution available to connect any piece of equipment with a fig. 8 socket to the mains supply. The lead comes 1.5 metres long as standard, but if you need a longer length please contact us.
Full specification:-
Furutech gold-plated fig.8 Plug (FI-8N).
Furutech gold-plated mains plug (FI-1363), with gold-plated Bussmann fuse.
Furutech silver-plated cable.
Fuse 37 strands of silver-plated α Alpha μ-OFC Conductor • 0.25mm diameter × 2 Cores (≒14 AWG) / (1.82 sq.mm).
37 strands of 0.25mm diameter α Alpha μ-OFC Conductor x 1 Core (≒14 AWG) / (1.82 sq.mm).
Insulation: Polyethylene (Red/White/Green) 3.4mm diameter Red=L、White=N、Green=E.
Inner Sheath: RoHS Compliant Vibration suppression PVC (Black) 9.3mm diameter.
Shield: 9 x 24 strands of 0.12mm braided α Alpha conductor.
Sheath: RoHS Compliant Flexible PVC (Brown) approx. 12.9mm diameter.
You can browse Furutech's web site here. Please contact us if you see anything you want that's not listed on our web site.
This mains lead can also be supplied fitted with the Furutech FI-11 gold plated IEC no extra charge.
Mains Leads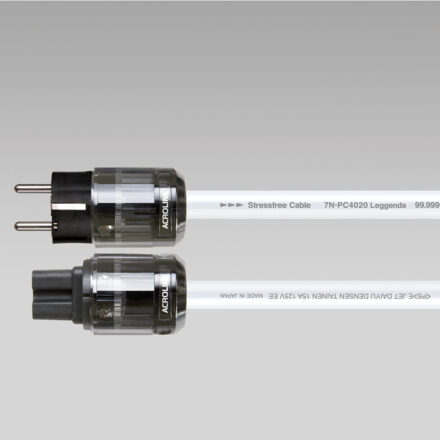 Acrolink 7N-PC4020 Legenda is a 3x14AWG power cable, made with 7N copper conductors for phase and neutral, 5N for ground. The terminals have metal elements silver-plated and perodized. 1.5m fitted with a Schuko plug