These USB 2.0 cables for audio applications feature gold-plated USB connectors and implement the USB 2.0 High Speed specification.
Each USB connector features a machined aluminum enclosure that provides weight to limit minuscule vibrations that could affect the connection.
Independent concentric-cross-section cables with a diameter of 7 mm holding dedicated No. 24 AWG grade conductors made of gold-plated oxygen-free copper (OFC) are used for power and signal lines, and a reversible design ensures the cables are easy to install.
Subjected to a rigorous, 100% inspection at a certified plant in Japan to ensure that they meet our quality standard, these cables deliver exceptional transmission quality.
Computer Audio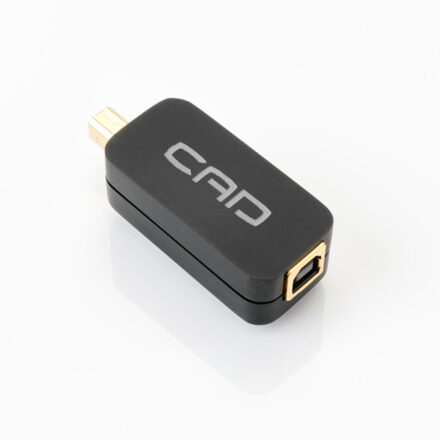 The new CAD USB Filter replaces the USB I cable. The Filter employs the same patented filter technology, developed in-house by Scott Berry, as used in the new USB II-R cable. The CAD Audio USB Cables are optimised specifically for audio use in conjunction with a USB Digital to Analogue Converter.