MCRU have developed a dual output linear power supply. It can be configured for any DC voltage so as an example one supply can output 9V DC for an ifi item whilst the other can be 12V DC for a Cambridge Dacmagic Plus. Both supplies are housed in a single case with the final regulation stages housed in a separate smaller case which sits next to the item it is powering.
The main case has 1 IEC inlet for mains power (a mains lead is provided) and 2 outputting DC cables clearly marked with the voltage for your equipment.
When ordering please specify what needs to be powered and we will do the rest.
The PSU can be 120V for use in the USA and supplied with a USA power cord, also available with Schuko or Australian power cord.
Some examples of equipment which benefits from our supply:-
Arcam R-Dac
Beresford Caiman DAC
M2Tech Young DAC
Cambridge Dacmagic 100
Cambridge Dacmagic Plus
M2Tech Hi-Face EVO
Musical Fidelity V-Dac
Squeezebox Duet
Squeezebox Touch
Any item which is currently powered by DC and uses a SMPS wall wart will benefit from using our power supply. Recently reviewed in Hi-Fi Choice and given 5 stars.
THE SUPPLIED UNIT WILL BE A SINGLE CASE WITH 2 OUTPUTS TO POWER 2 SEPERATE PIECES OF EQUIPMENT, VOLTAGE FROM 5V DC UP TO 25V DC 1 AMP
IF YOU CHOSEN EQUIPMENT IS OUTSIDE THIS RANGE PLEASE GET IN TOUCH FOR A QUOTE.
Dac Power Supplies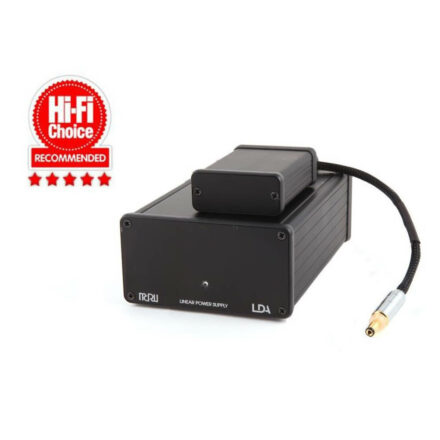 Available Models
OPTION ONE – Standard Model – Basic mains lead £295.00
OPTION TWO Kimber DC Kable, Furutech Gold plated IEC inlet, AMR Gold plated fuse, Supra Lorad mains lead to suit your country  £450.00
OPTION THREE Pure Silver DC Cable, Furutech Rhodium plated IEC inlet, SR Orange fuse, Isol-8 Wave mains lead to suit your country £650.00
OPTION Four Pure Silver DC Cable, Furutech Rhodium plated IEC inlet, SR Orange fuse, MCRU No. 75 SE mains lead to suit your country, MCRU isolation support stand £750.00